Description:
Sam's throne is primaliy known as a premier rock climbing area in the Ozarks.
The legend dates back to the 1820s. Buffalo hunter and farmer Sam Davis roamed Arkansas valleys in what is now Newton County, searching for a sister he claimed was kidnapped by Indians.
Davis climbed the tall rocks every morning and yelled mighty sermons to those who lived in the valley below. The place became known as Sam's Throne.
Sam's Throne Arkansas
Cost:
There is not a fee for this area however donations are accepted.  Open year round. No water available.
Best Time to Visit:
Anytime but summer.
Where it is:
Sam's Throne is in the Ozark National Forest about 2.5 hours north of Little Rock near Jasper.  Located just off State Hwy 123 (Possibly one of the most scenic roads in the State).
Directions:
Sam's Throne is about 50 miles north of Russellville on Hwy-123 between Lurton and Mt Judea (pronounced Mt Judy) and the main parking area is clearly marked by a nice new wooden Forest Service sign.  Follow this road through the camping area to a parking lot where you will find a sign for Sam's Loop Trail Chickenhead wall access. Follow the well established trail and enjoy some fantastic views of the vally on your way to the wall and overlook.
Map: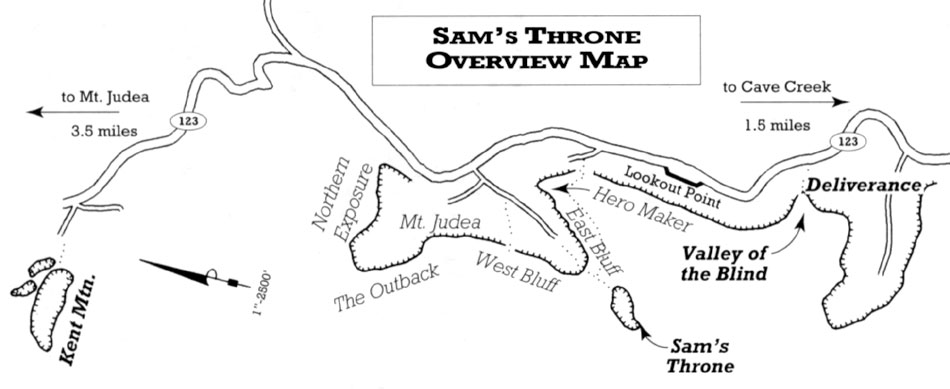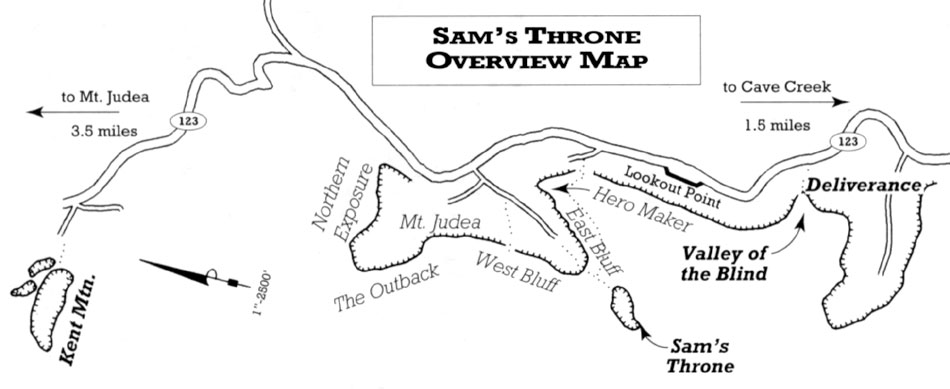 GPS Cordinates
Sams Throne is located at latitude – longitude coordinates of N 35.870911 and W -93.058507.
Tips for the Photographer
Equipment:
To include the vast panoramas you will want a wide angle lens.  There is also a lot of potential for shooting macro along the trail.  Use of a polarizing filter will help with reflections on the leaves and make your skies bluer.
What to Photograph:
The valley below, the Chicken Head Wall, rock overhangs and trees clinging to the rock.  You may also be able to photograph rock climbers.
Photography Tips:
When shooting with a polarizing filter you want the sun to be hitting the side of the lens for the most effect, with the sun at your back or shooting into the sun the filter will do very little.Shooting midday will result in high contrast and dappled shade, neither of which make for good landscapes.  Best time to shoot is early morning or late in the day.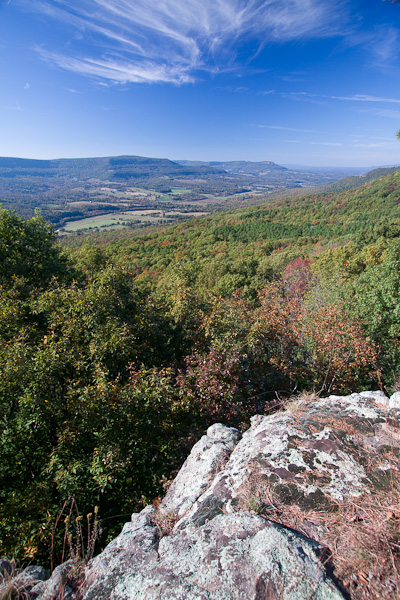 Sam's Throne Photo Gallery
More Photographic Destinations in Arkansas:
Interactive Google Map
Use the map  + – controls to zoom in and out, use the Map drop-down to change to "Map", "Satellite", "Hybrid", or "Terrain" views.  Drag the little man icon from the upper left corner to a map location for street level view. Click on a pushpin for more information about the Photographic Destination, then click on the title to go to the location page.
Greg Disch is a freelance photographer located in Fort Smith, Arkansas.  Greg specializes in nature, scenic, wildlife, and other outdoor subjects in Arkansas and other areas of the country. Greg also shoots portraits and event photography and is available for assignments.  Greg teaches photography classes and workshops in Arkansas and other locations.  Most of the images on this site are available for sale as prints, personal use, or rights managed stock photos.