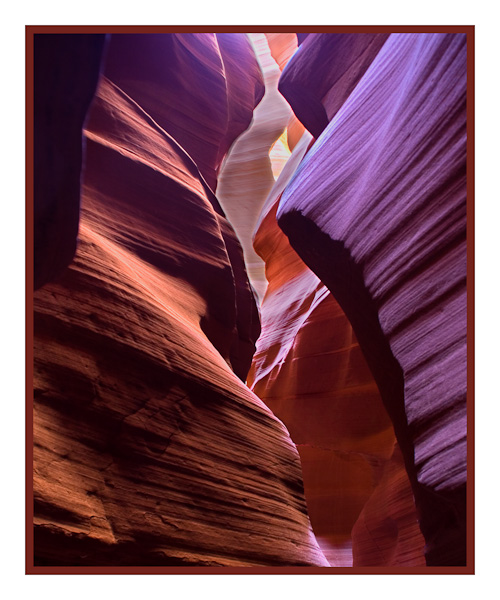 Antelope Canyon is one of the must visit locations for photographers.  Yes it is one of the most photographed canyons in the United States, but there is a good reason for that.  Antelope Canyon is absolutely a gorgeous place for photography.
Antelope Canyon is at once one of the most breathtaking and tranquil places on earth.  Gently carved from the Navajo sandstone over the course of countless millenniums, the slot canyons are majestic and narrow passages, just enough space for a small group to walk the sandy floor – and for the occasional shafts of sunlight to shine down from above.
To older Navajos, entering a place like Antelope Canyon was like entering a cathedral.  They would probably pause before going in, to be in the right from of mind and prepare the protection and respect.  This would also allow them to leave with an uplifted feeling of what Mother Nature has to offer, and to be in harmony with something greater than themselves.  It was (and is) a spiritual experience.
Upper Antelope Canyon – Page Arizona

Cost:

Fees vary with the tour provider that you choose and the length of the tour. A regular tour will run around $30.00, most of the photo tours will run around $50.00 per person.
Best Time to Visit:
 The best time of the year to visit is in the spring or fall when there are fewer tourists.  One of the biggest obstacles of photographing the canyon is to not have people walking through your shot.
Where it is:
 Just outside of Page Arizona a small town located on the southern shores of Lake Powell.
Directions:
 Most of the tours will leave from the tour offices located in Page, where they will provide transportation to the canyon. You can also drive to the Entrance Station from March to October, located on Hwy 98 4 miles east of Page Arizona.
Map:
 
Links:
 Geology
 Antelope Canyon was formed by erosion of Navajo Sandstone, primarily due to flash flooding and secondarily due to other sub-aerial processes. Rainwater, especially during monsoon season, runs into the extensive basin above the slot canyon sections, picking up speed and sand as it rushes into the narrow passageways. Over time the passageways are eroded away, making the corridors deeper and smoothing hard edges in such a way as to form characteristic 'flowing' shapes in the rock.Flooding in the canyon still occurs. A flood occurred on October 30, 2006 that lasted 36 hours, and caused the Tribal Park Authorities to close Lower Antelope Canyon for five months.
 GPS
Coordinates         36° 51′ 28″ N, 111° 22′ 20″ W
Decimal               36.857778, -111.372222
Tips for the Photographer

Equipment:
 It is very low light conditions when shooting in the canyon, you will absolutely need a good tripod and use a cable release or self timer.  A wide angle lens is needed to shoot inside the canyon since it twists and turns and you cannot back away to get the shot.Bring plenty of extra batteries, long exposures will drain batteries faster.
What to Photograph:
 The magnificent sandstone shapes, with the light and shadows working in the canyon to create a wonderland full of fantastic color.
Photography Tips:
 Shoot using available light, do not use a flash (doing so will wipe out all of the fantastic color and shadows and make for a very flat boring image of rocks)  Exposure times will be in seconds in many parts of the canyon.  Use a small aperture for depth of field and a low ISO for a good sharp image.  If you are shooting digital, use the LCD and the histogram to check exposure, the histogram will show if you are totally under or over exposing areas in the scene.  Do not shoot up into the sky through the top of the canyon.This is one of the exceptions to shooting in the golden hour, the best time of day is actually when the sun is directly overhead, and not overcast.  At around noon you can shoot shafts of light coming down into the canyon.  Be sure to throw a little dust into the air to make the light beam show up well.
Notes
 There is no hiking or climbing involved, only easy walking on the Canyon floor which is level for the most part.
 Photographic Tour
 Antelope Canyon is only open through a tour operator authorized by the Navaho Nation.  I used and recommend Antelope Canyon Tours. They offer a special photographers tour, the following is an excerpt from their website.

"Designed for experience to professional photographers only. Limited seating; maximum 12 per day. Advance Reservations highly recommended. Our guide will be available to patrol traffic and point out highlights of the canyon. Tours are not a Photo workshop."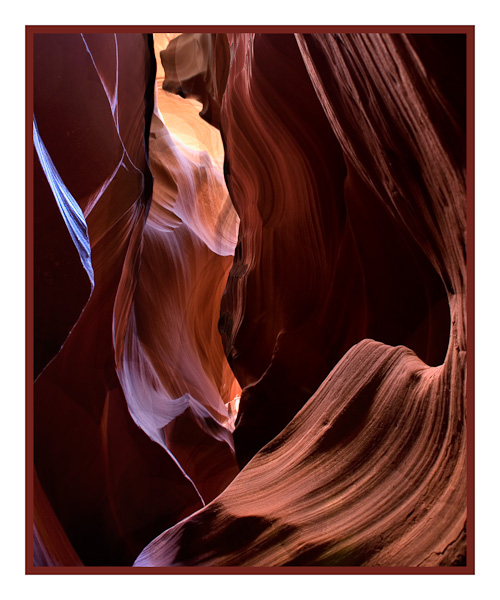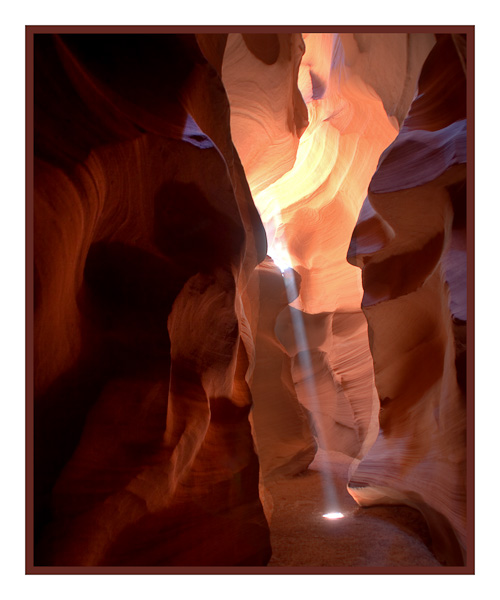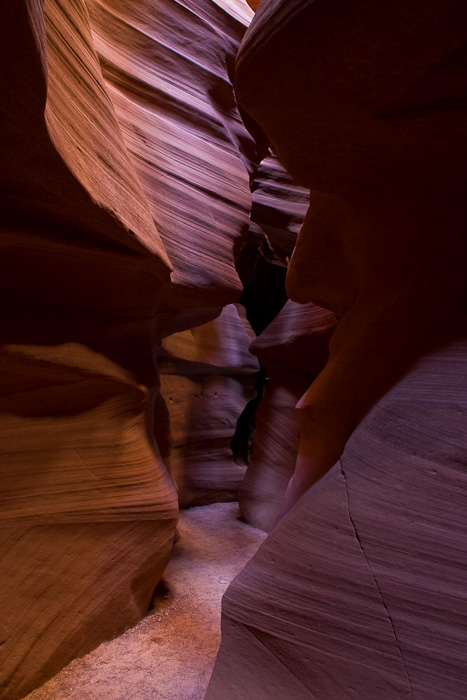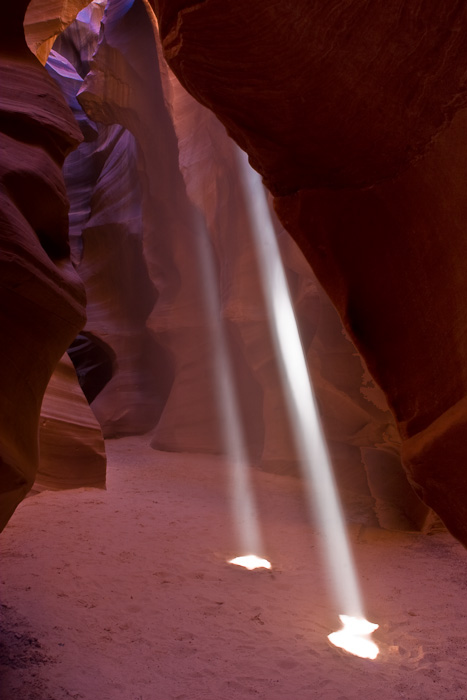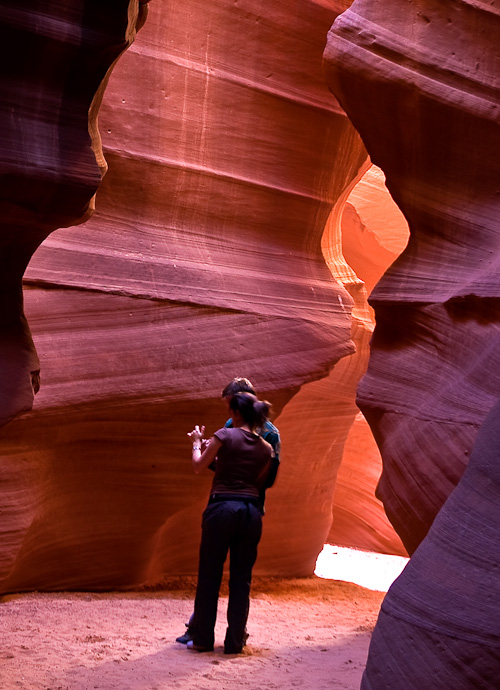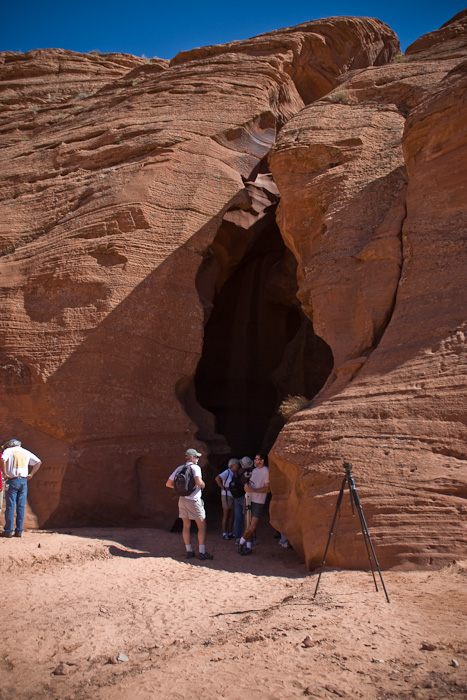 Antelope Canyon Photo Gallery
More Photographic Destinations in Arizona:
Interactive Google Map
Use the map  + – controls to zoom in and out, use the Map drop-down to change to "Map", "Satellite", "Hybrid", or "Terrain" views.  Drag the little man icon from the upper left corner to a map location for street level view. Click on a pushpin for more information about the Photographic Destination, then click on the title to go to the location page.
Greg Disch is a freelance photographer located in Fort Smith, Arkansas.  Greg specializes in nature, scenic, wildlife, and other outdoor subjects in Arkansas and other areas of the country. Greg also shoots portraits and event photography and is available for assignments.  Greg teaches photography classes and workshops in Arkansas and other locations.  Most of the images on this site are available for sale as prints, personal use, or rights managed stock photos.