Mid-America Photography Symposium
Join me at the Mid-America Photography Symposium in Eureka Springs Ar May 16-17  for the biggest and best photography event in the region.
20 SESSIONS IN 5 TRACKS
          NATURE
          STUDIO
          COMMERCIAL
          PHOTO 101
          PORTFOLIO
3 IN
DEPTH WORKSHOPS

          STEVEN FOSTER'S BOTANICAL PHOTOGRAPHY

          JIM SCHMELZER'S SECRETS FROM THE STUDIO

          PHOTOSHOP WITH JEFF WILLARD

 
4 EXCITING EVENTS
          DINNER WITH JIM SCHMELZER
          PRINT COMPETITION
          ANNUAL LATE NIGHT MODEL SESSION
          HAUTE COUTURE IN HISTORIC EUREKA SPRINGS
 
This years sympsoium features photographers from around the nation leading workshops and sympsoium sessions.  In addition to the symposium, and pre-conference activities, check out the annual late night photo session.  This year's Vendor Fair will feature door prizes during every break in addition to companies with the latest in photographic tools and toys.
 Canon Explorer of Light Rick Sammon
 Rick Sammon has published 33 books, including his latest, Rick Sammon's Secrets to Digital Photography, Exploring the Light – Making the Very Best In-Camera Exposures, and Face to Face – The Complete Guide to Photographing People.
Rick, who has photographed in almost 100 countries around the world, gives more than two-dozen photography workshops (including private workshops) and presentations around the world each year. He also presents at Photoshop World, which Rick says is a "blast." Obviously, Rick loves teaching and sharing his knowledge of photography. Rick is also the author of the Canon Digital Rebel XT lessons on the Canon Digital Learning Center. He is also a Canon Explorer of Light. Rick also host five shows on kelbytraining.com. He's also been spotted giving presentations at Apple stores in New York City and in San Francisco.
You can see photos by Rick at www.ricksammon.com.
Lightroom: Work-flow Not Work-slow
I will be instructing a session during the symposium in this session you will learn to make basic corrections to exposure, white balance, tone curves, dodging and burning, and many other techniques very quickly and be able to apply these to an entire shoot with just a couple of clicks. If you follow the instructions presented you will never again have trouble finding a photo, you know you have somewhere.
Lightroom does what it does by combining Adobe Camera Raw (ACR) and a database and then tossing in a lot of "computer magic". What this gives us is a way to organize our photos and do a great deal of sophisticated editing, all in a totally non destructive (this means you cannot ruin your original image) environment. Lightroom does not replace Photoshop or any other image editing program which lets you use layers, apply filters, or do sophisticated retouching and composting of images.
The use of a database gives us to ability to organize our photos, and then sort them buy any of many different criteria including standard metadata and IPTC information. This ability to sort very quickly on the entire catalog is what makes Lightroom great for organizing, or should I say finding your photos. The other cool thing about using a database, is that instead of changing all of our pixels and then throwing away the old pixel information, Lightroom simply saves an instruction to change the pixels. The program then reads this instruction and applies it to the image on screen but not to the actual file.

 
 View a short slideshow from previous mapsym events.
Pre-Symposium Late Night Model Session

Once the sun has set many photographers will pack away their cameras and go home. They are missing out capturing some of the most stunning and visually exciting images.
The night has always been associated with romance, mystery, and the unknown. The nocturne has also been a natural subject for art. Night photography can produce some very interesting effects. The moon and stars aren't the only things worth taking pictures of when the sun goes down.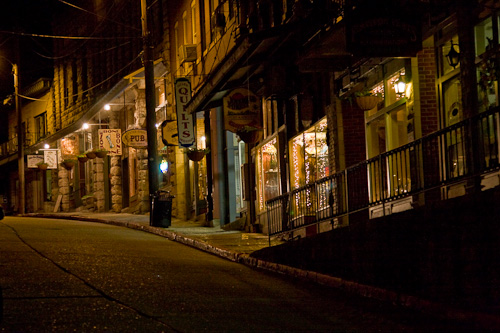 Taking photographs at night is a lot simpler to achieve then one might think. The results can be very stunning and strange effects are easy to master. It is also possible to take top quality night images with just basic equipment.
See my article on Digital Night Photography.