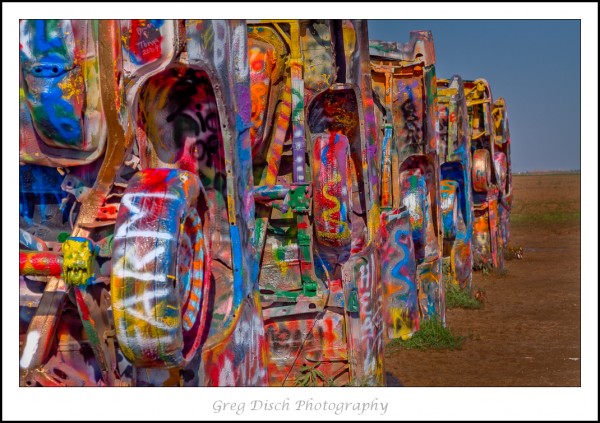 Cadillac Ranch is a public art installation and sculpture in Amarillo, Texas, U.S. It was created in 1974 by Chip Lord, Hudson Marquez and Doug Michels, who were a part of the art group Ant Farm, and it consists of what were (when originally installed during 1974) either older running used or junk Cadillac automobiles, representing a number of evolutions of the car line (most notably the birth and death of the defining feature of early Cadillacs; the tail fin) from 1949 to 1963, half-buried nose-first in the ground, at an angle corresponding to that of the Great Pyramid of Giza in Egypt.
It was originally located in a wheat field, but in 1997 the installation was quietly moved by a local contractor two  to the west, to a cow pasture along Interstate 40, in order to place it further from the limits of the growing city.
Cadillac Ranch is visible from the highway, and though it is located on private land, visiting it (by driving along a frontage road and entering the pasture by walking through an unlocked gate) is tacitly encouraged. In addition, writing graffiti on or otherwise spray-painting the vehicles is also encouraged, and the vehicles, which have long since lost their original colors, are wildly decorated. The cars are periodically repainted various colors (once white for the filming of a television commercial, another time pink in honor of Stanley's wife Wendy's birthday , and yet another time all 10 cars were painted flat black to mark the passing of Ant Farm artist Doug Michels or simply to provide a fresh canvas for future visitors. The cars were briefly "restored" to their original colors by the motel chain Hampton Inn in a public relation sponsored series of Route 66 landmark restoration projects. The new paint jobs and even the plaque commemorating the project lasted less than 24 hours without fresh graffiti.
Cadillac Ranch
Cost:
There is no fee for visiting Cadillac Ranch
Best Time to Visit:
The area is open 24 hours a day seven days a week, but there are no lights so plan to visit during daylight hours or furnishing your own lighting.
Where it is:
In a cow pasture outside of Amarillo TX
Directions:
Along eastbound I-40 between exits 60 and 62. Exit onto the frontage road, a remnant of historic Route 66, then enter the pasture through an unlocked gate.
Map:
Links:
Official Cadillac Ranch Website
Amarillo Convention & Visitor Council
Tips for the Photographer
Equipment:
You do not need any special equipment for this location, anything from a point and shoot up will give good results.
What to Photograph:
Cadillac Ranch is famous for the 10 Cadillacs buried in the ground in a cow pasture in in the Texas panhandle, don't expect anything more than that.  The cars have been painted so many time the spray paint has built up to be over an inch thick in places, with changing colors and patterns.  You could photograph this site every week and it would look different.
Photography Tips:
Trying to shoot all 10 Cadillacs at one time will not give a real interesting shot.  Move in close and shoot the detail and color of the cars for some really interesting and abstract photos.
Image Gallery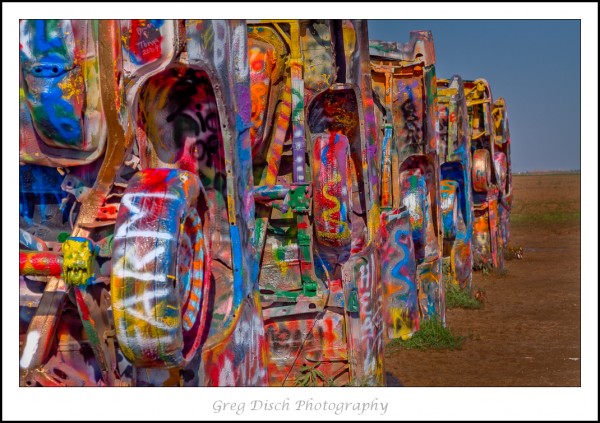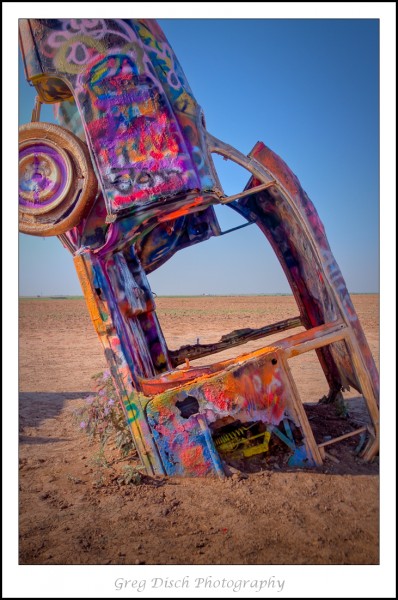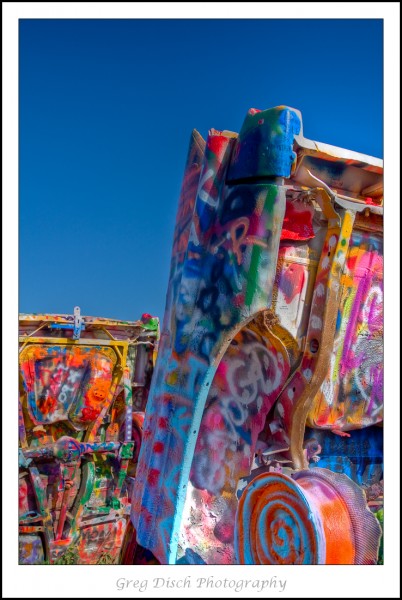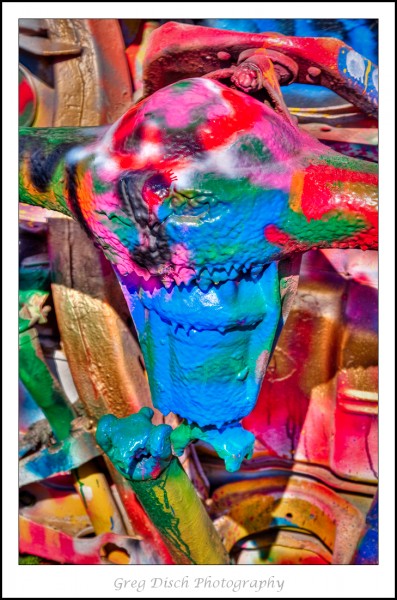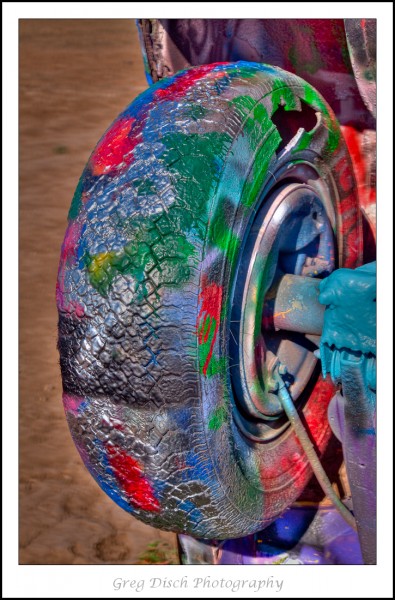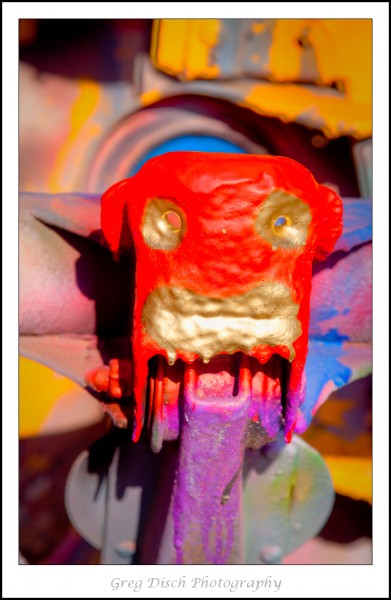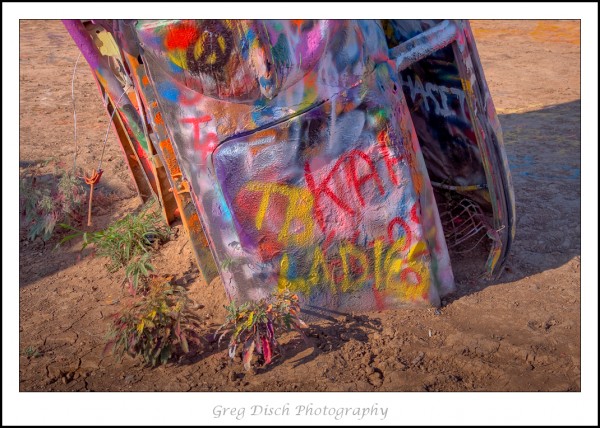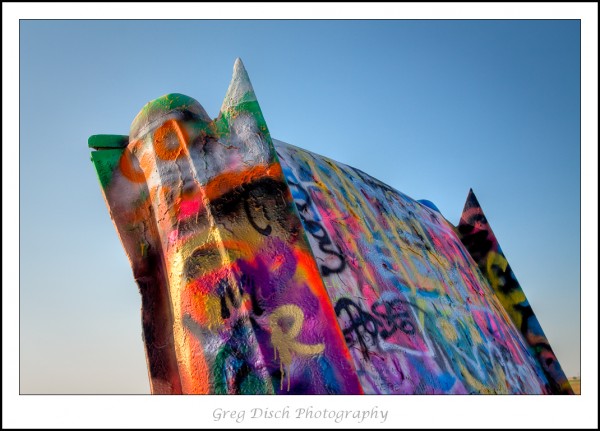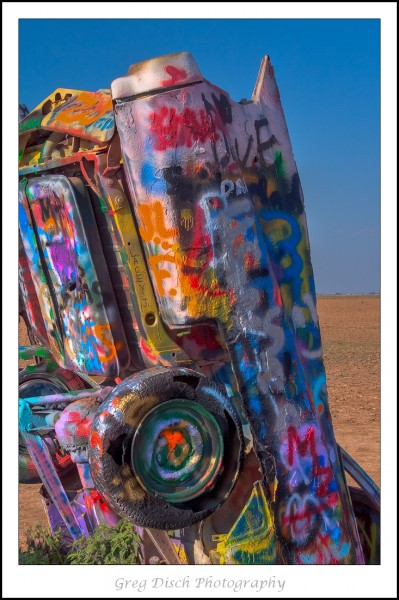 Cadillac Ranch Photo Gallery
More Photographic Destinations in Texas:
Interactive Google Map
Use the map  + – controls to zoom in and out, use the Map drop-down to change to "Map", "Satellite", "Hybrid", or "Terrain" views.  Drag the little man icon from the upper left corner to a map location for street level view. Click on a pushpin for more information about the Photographic Destination, then click on the title to go to the location page.