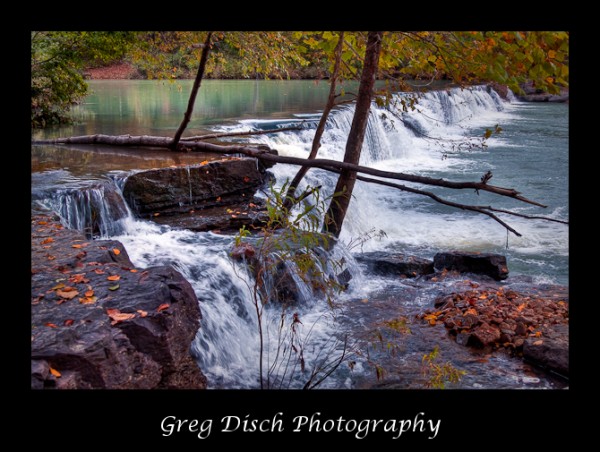 Natural Dam Arkansas
Description:
Natural Dam is just what the name implies, a natural rock dam, located at the town of Natural Dam Arkansas.  The dam is nearly 200 feet wide and spans the width of Mountain Fork Creek where it runs into Lee Creek  You can easily view the dam without getting out of your vehicle , but the area features an excellent picnic area.  This is a very popular place for getting your feet wet and swimming during the hot summer months.
Cost:
There is no fee for this area, but it is for day use only, no camping and it closes at dark.
Best Time to Visit:
Anytime is good, great for fall colors
Where it is:
15 miles north of Van Buren in the Boston Mountain range of the Ozark Mountains, in the Ozark National Forest
Directions:
Take Exit-5 off I-40 at Van Buren and go north on Ark. 59. Turn left at the Natural Dam Community – the picnic area and waterfalls come into sight after making the turn.
Map:
Contact:
Boston Mountain Ranger District
P.O. Box 76,
Highway 23 North
Ozark, AR 72949
(479) 667-2191
Crawford County Sheriff   911 or 479-474-2261
Physical Address:2137 Natural Dam Road, Natural Dam, AR 72948
Tips for the Photographer
Equipment:
The Dam can be photographed easily with most any camera and a normal lens.  A tripod is needed to keep the camera steady while shooting a long exposure to blur the water.  A polarizing filter to saturate color and cut reflections on the water.  During bright light you may also need neutral density filters to cut the light passing through the lens to enable a long exposure.
What to Photograph:
The waterfall, the surrounding forest and creek also contain great scenery.
Photography Tips:
Please read my article on shooting waterfalls.http://blog.gregdisch.com/2009/03/22/how-to-shooot-waterfalls/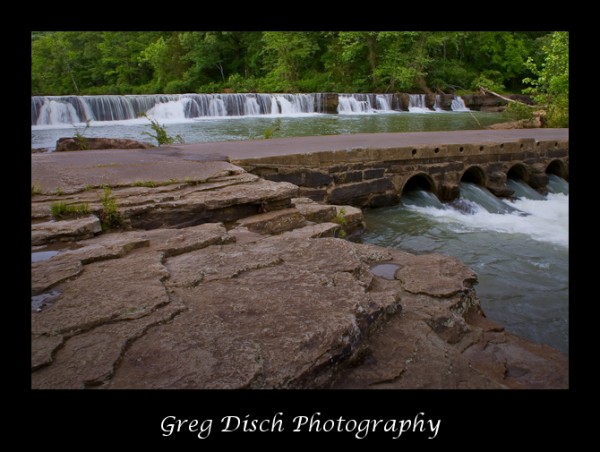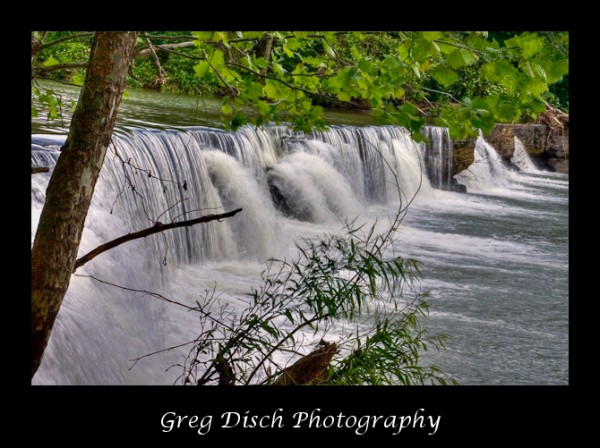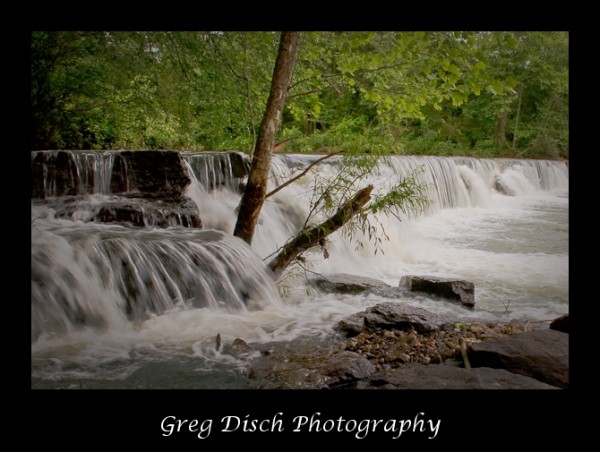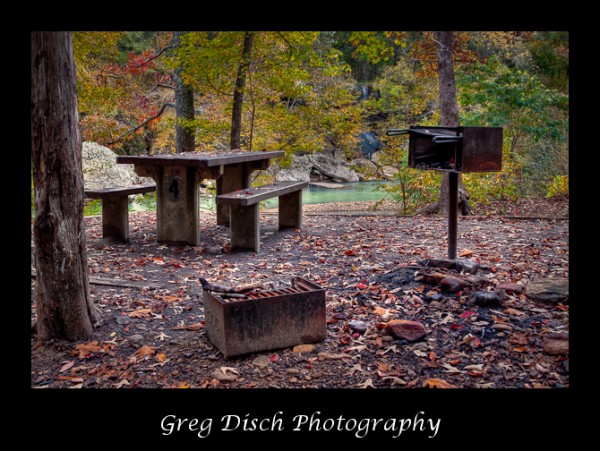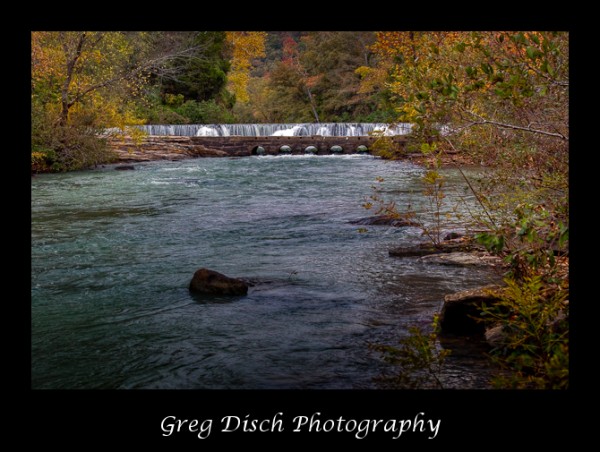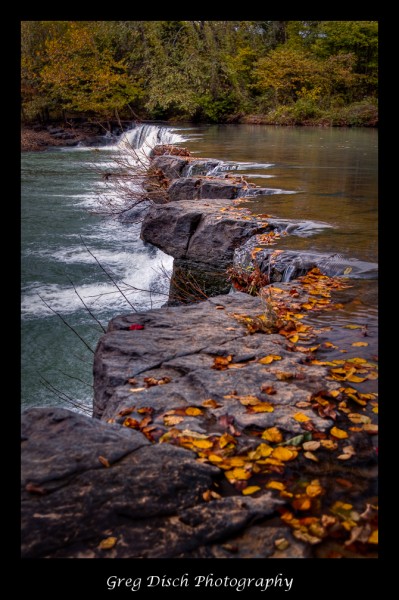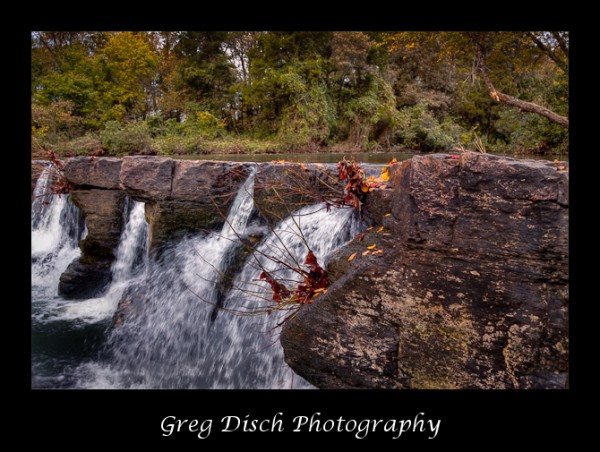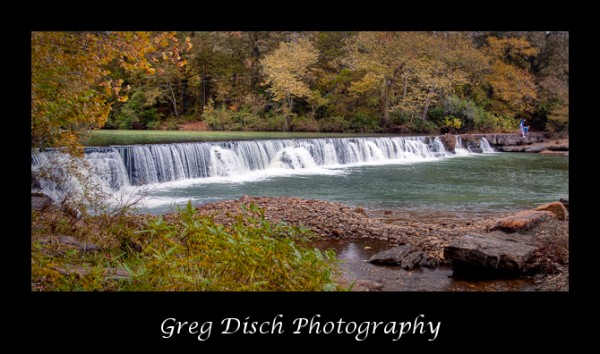 More Photographic Destinations in Arkansas:
Interactive Google Map
Use the map  + – controls to zoom in and out, use the Map drop-down to change to "Map", "Satellite", "Hybrid", or "Terrain" views.  Drag the little man icon from the upper left corner to a map location for street level view. Click on a pushpin for more information about the Photographic Destination, then click on the title to go to the location page.
Greg Disch is a freelance photographer located in Fort Smith, Arkansas.  Greg specializes in nature, scenic, wildlife, and other outdoor subjects in Arkansas and other areas of the country. Greg also shoots portraits and event photography and is available for assignments.  Greg teaches photography classes and workshops in Arkansas and other locations.  Most of the images on this site are available for sale as prints, personal use, or rights managed stock photos.