Abandoned Fort Chaffee Hospital
The Hospital located at Fort Chaffee Arkansas, has been abandoned for many years. The medical complex at Fort Chaffee opened on December 7, 1941 (Pearl Harbor Day). The medical complex itself is an enormous site with 128 buildings all held together by long hallways. The complex has its own exchange and theater. It even had its own four lane bowling alley, not to mention being a 1,595 bed hospital.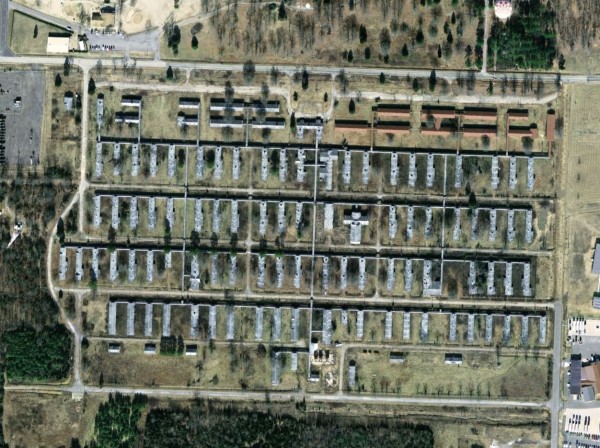 Satellite image taken on January 7th 2006 of the Hospital Complex at Fort Chaffee.
Fort Chaffee Timeline
September 9, 1941, construction started on Camp Chaffee.
December 7, 1941, the first soldiers arrive, combat training initiated
1943-1946 some 3,000 German prisoners of war were held at Camp Chaffee.
1948-1957 it was the home of the 5th Armored Division
1961- 1974  Fort Chaffee was declared inactive and placed under caretaker status
1975 Refugee Processing Center for Indochinese refugees. 50,809 Vietnamese refugees were processed.
1980-1982  25,390 Cuban refugees were processed.
1983 the motion picture "A Soldiers Story" was filmed
1986 Joint Readiness Training Center pilot program announced.
1987 the movie "Biloxi Blues" was  filmed
1995 the defense Base Realignment and Closure (BRAC) Commission recommended the permanent closure of Fort Chaffee.
2005 Hurricane Katrina victims were processed
January 29, 2008, fires that burned 150 buildings, mainly old barracks that in the past housed soldiers, Vietnamese and Cuban refugees, and Hurricane Katrina evacuees.

Fort Chaffee Hospital Image Gallery

Abandoned Hospital Fort Chaffee – Images by Greg Disch