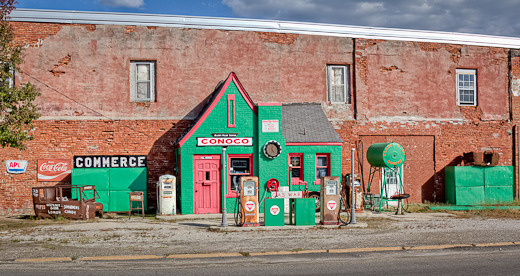 Commerce Oklahoma Route 66 Gallery
Commerce Oklahoma was originally called North Miami until 1914 when the name was changed.  Commerce is the hometown to baseball legend Mickey Mantle and the Route 66 through town has been renamed Mickey Mantle Blvd.
Allen's Fillin' Station on the west end of Main Street on Historic Route 66 is a service station built about 1930 with a French cottage style building. the building is unique in that it is built into the wall of the last building on main street.  The station was refurbished in 2008 by Carl and Linda Allen.
The Dairy King was originally built as a Marathon Gas Station and is home to "Route 66 Cookies".
Image Gallery
Photo Gallery Preview
Click on a thumbnail for a larger and complete version, the thumbnails are square and do show the entire image. You will then have the option to purchase or license an image.
Purchase Prints and Products instantly online.
8″x10″ print
$19.95
8″x12″ print
$19.95
11″x14″ print
$48.95
16″x20″ print
$89.95
20″x30″ print
$189.95
30″x40″ print
$449.00
Ceramic mug (15 oz.) – white
15-oz. white ceramic mug is microwave- and dishwasher-safe.
$24.95
Folded greeting cards (3.5″x5″, pack of 12)
Pack of 12 high-quality matte greeting cards (3.5″x5″) comes boxed with envelopes.
$24.95
Folded greeting cards (3.5″x5″, pack of 24)
Pack of 24 high-quality matte greeting cards (3.5″x5″) comes boxed with envelopes.
$49.95
Folded greeting cards (5″x7″, pack of 10)
Pack of 10 high-quality matte greeting cards (5″x7″) comes boxed with envelopes.
$39.95
Folded greeting cards (5″x7″, pack of 25)
Pack of 25 high-quality matte greeting cards (5″x7″) comes boxed with envelopes.
$89.95
Single folded greeting card (5″x7″)
High-quality matte greeting card (5″x7″) comes with envelope.
$8.95
Mouse pad
This standard-sized mouse pad displays the selected image above a high-density foam construction. The easy-to-clean mouse pad comes with a stain-resistant finish.
$16.50
Photo puzzle
252-piece photo puzzle comes in a sturdy, finished cardboard box that is affixed with a print of the selected image.
$49.00
For commercial or editorial use click "Add to Cart" and choose "download" where you can  instantly get a quote, purchase, and download a high resolution image.
Oklahoma Route 66 Galleries

Route 66 Photos by Subject
 
 
Route 66 Murals
Murals and advertising signs are popping up all along route 66 on the sides of buildings and other locations many combining art and history.
 
Route 66 Road Signs
Route 66 shields and road signs are being put up all along route 66, both authentic highway markings to homemade, you'll find them here.
 
Roadside Attractions
Route 66 has a lot of strange and unique attractions, many designed to lure tourists from the road.
 
Gas Stations
With the huge volume of traffic travelling route 66, back when cars needed frequent service, gas stations were all along the route and today many have been restored while others are simply abandoned.
 
Diners and Cafe'sRoute 66 is home to many one of a kind diners, cafe's, and other eateries, each with it's own unique identity.  These establishments predate the fast food franchise industry, and most are operated by the actual owners. 
 
Hotels and MotelsThe hotels and motels of route 66 are all unique and individual, each with their own design and personality.
 
The RoadRoute 66 is a road, Portland Cement, blacktop, asphalt, or other surface, creating a line across the US.  These photos are of the road itself.
 
SignsThe signs of Route 66 have a history all their own, from marking the route to luring you into some weird tourist destination.  Here you will find all types of signage only found on Route 66.
 
Cars and TrucksThe primary purpose of Route 66 was to provide a path for the cars and trucks of the time to travel across the country. Here you will find photos of some of the earliest motor vehicles to the classics for which the route is famous.  From rust to rare, you can find great old cars and trucks all along route.66
BridgesYou can't have a road without bridges, and route 66 has many historic "one of kind" and "last of a kind" bridges.
LandscapesRoute 66 crosses 2200 miles of great american landscape.  These photos represent the fantastic views seen as you travel the mother road.
AbandonedWith the interstate replacing route 66, there are many casualties, including buildings, vehicles, and other items that have been simple abandoned.