Petit Jean State Park
Petit Jean Mountain near Morrilton Arkansas is home to Petit Jean State Park, which was Arkansas first state park.  The park is known for the legend of Petit Jean, a french girl who disguised herself as a cabin-boy to accompany her boyfriend to the new world.
More than 20 miles of trails guide you to Petit Jean's special places. Walk to Cedar Falls; meander through Seven Hollows; enter Rock House Cave or explore Bear Cave.
What to Photograph:
Petit Jean State Park offers spectacular views of the Arkansas River Valley from numerous overlooks around the park.
Cedar Falls is a 94 foot waterfall that flows all year long and can be photographed from several  overlooks or you can hike to the bottom and photograph from there.
There are a great deal of unique rock formations and caves in the park, the most notable is the "Turtle Rocks".
The park contains many CCC structures including 3 National Historic Districts and over 80 buildings, structures, trails, and bridges.
Best Time for Photographers:
Just about anytime can be good for photography here, of course midday light can be very high contrast and hard to work with and the use of HDR photography can be the solution.
Sunrise and sunset are both great times for photographers at Petit Jean.  For sunrise the Petit Jean Gravesite overlook gives a great view of the Arkansas River and the sunrise to the east.  The Grave site overlook
Sunset can be shot from several overlooks on the west side of the mounting, the CCC overlook is my favorite.

Where it is:
LOCATION
Take Hwy. 9 (Exit 108) off l-40 at Morrilton south 9 miles to Oppelo. Then head west 12 miles on Hwy. 154 to park; OR, take Hwy. 7 off l-40 (south), OR, off I-30 (north) to Centerville, then east 16 miles on Hwy. 154 to the park; OR, take Hwy. 155 (north) from Hwy. 10 at Casa.
Maps:
Interactive Google Map
Use the map  + – controls to zoom in and out, click and drag the to move the map, use the Map drop-down to change to "Map", "Satellite", "Hybrid", or "Terrain" views.  Drag the little man icon from the upper left corner to a map location for street level view.
Petit Jean State Park Map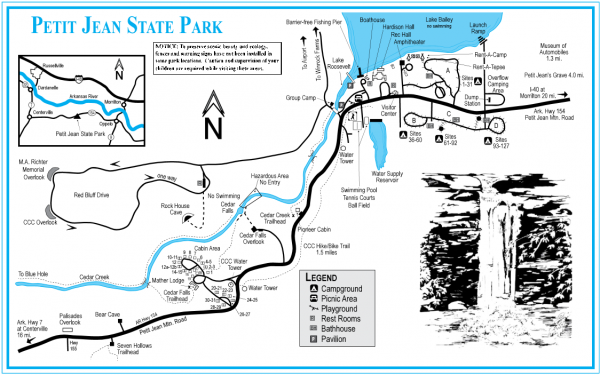 Cost:
There are no fees for the use of the park, fees are charged for camping, cabins, and the lodge.
Facilities:
Lodging ◆ High on a bluff overlooking the Arkansas River Valley, Mather Lodge offers 24 guest rooms (6 doubles and 18 singles) and cabins. Whether for a weekend vacation or a business conference, the lodge complex provides a swimming pool, gift shop, a conference room, and full service restaurant (in-park catering available.) Small groups can meet in the
Arkansas Room for a fee
.
Cabins ◆ Twenty-one fully equipped housekeeping cabins are scattered in the woods near Mather Lodge. There are 9 rustic, 5 duplex (10 units) and 2 honeymoon cabins with hot tubs, all with fireplaces (for seasonal use only – Oct. 1 to April 1). Cabins include all-electric kitchens with cooking utensils and tableware. Linens are provided, and cabins are heated and air-conditioned for year-round comfort. Five cabins are barrier-free. Six duplex cabins (12 units, all with fireplaces, but no kitchens) are near the lodge. There are also dog friendly cabins. (NOTE: No lodge rooms or cabins have telephones. Televisions are available in all rooms and cabins. The lodge pool, open seasonally, is for lodge and cabin guests only. Call to reserve a lodge room or cabin.)
Camping ◆ The park has 125 campsites (27 pull-thru sites) with water and electrical hookups. NOTE: Campers must register at the visitor center before occupying a campsite. All may be reserved up to one year in advance. Call to check availability. Sites are divided into 4 areas with a bathhouse in each. There is also a 50 unit rally-style camping area available for camping clubs. A group camp area with heated bathhouse can be reserved and is available for tent camping only, year round. An RV sanitary station is near the overflow area.
For those who don't own camping equipment, Rent-A-Camp and Rent-A-Tepee packages include a tent/tepee, mats, canoe, camp stove and other camping gear.  These are available March – November. A fly-in campground is at the airport. Call for information.
Links:
 The Legend of Petit Jean and History of the Park
Geology of Petit Jean State Park
Location Contact Information:
For lodge and cabin reservations, contact:
Mather Lodge
1069 Petit Jean Mtn. Road
Morrilton, AR 72110
Telephone: (501)727-5431 OR 1-800-264-2462
For camping reservations, information, park hours,
fees and programs, contact:
Petit Jean State Park
1285 Petit Jean Mtn. Road
Morrilton, AR 72110
Telephone: (501)727-5441 (Park
e-mail: petitjean@arkansas.com
www.petitjeanstatepark.com
Arkansas State Parks
One Capitol Mall, 4A-900
Little Rock, AR 72201
Telephone: (501)682-1191
www.ArkansasStateParks.com
Nearest City or Town:
 Morrilton Arkansas
Morrilton Area Chamber of Commerce
Tips for the Photographer:
Equipment:
Petit Jean State Park offers all types of photography opportunities and can be photographed with any type of camera equipment.  For shooting sunrise and sunset a tripod will keep your camera steady during long exposures during twilight, and is needed in the caves and rock shelters throughout the park.
Photography Tips:
To photograph Cedar Falls, as with most waterfalls, low light on an overcast day or very early or late will let you use a long exposure to smooth out the water.  You can read my article on  "How to Shoot Waterfalls" here.
---
Weather:
---
Petit Jean State Park Photo Gallery
More Photographic Destinations in Arkansas:
Interactive Google Map
Use the map  + – controls to zoom in and out, use the Map drop-down to change to "Map", "Satellite", "Hybrid", or "Terrain" views.  Drag the little man icon from the upper left corner to a map location for street level view. Click on a pushpin for more information about the Photographic Destination, then click on the title to go to the location page.
Greg Disch is a freelance photographer located in Fort Smith, Arkansas.  Greg specializes in nature, scenic, wildlife, and other outdoor subjects in Arkansas and other areas of the country. Greg also shoots portraits and event photography and is available for assignments.  Greg teaches photography classes and workshops in Arkansas and other locations.  Most of the images on this site are available for sale as prints, personal use, or rights managed stock photos.