Blanchard Springs Recreation Area
The Blanchard Springs Recreation Area offers a rich outdoor experience. Stroll on the paved trail to where Blanchard Springs gushes as a waterfall from the hillside. Swim in the clear waters of the North Sylamore Creek. Hike into the Ozark woods for an hour or a weekend. Try your luck catching rainbow trout from Mirror Lake, an accessible facility.
Current Conditions:
For current conditions and updates call Blanchard Springs Caverns at 870 757 2211.
Operational Hours:
Visitor Information Center hours 9:30 am to 6:00 pm –  open 7 days a week from mid-March through October. Open Wednesdays through Sundays November through mid-March.
Reservations:
Group campsites, picnic shelters (group shelter electric) and amphitheater (group walk to) must be reserved throughrecreation.gov or call (877) 444-6777.
Area Amenities:
Interpretive Site,Accessible,Toilets,Parking
Fees

Day Use, Swim Beach – $3 per vehicle
Campground – $10 site per night
Large Group Camp Site, GS1 – $60 per night
Small Group Site. GS2 – $35 per night
Large Pavillion – $60 day
Small Pavilion –  $30 day
Amphitheater – $40 day

Open Season:
Year-round
Closest Towns:
Mountain View
Water:
Drinking Water
Restroom:
Flush / Hot Showers
Operated By:
Forest Service
Blanchard Springs Caverns
Located in Stone County, approximately 2 miles off Highway 14 near Mountain View, the Blanchard Springs Caverns is one of the most spectacular and carefully developed caves found anywhere. Visitors enter a "living" cave where glistening formations like stalactites, stalagmites, columns, and flowstones are still changing. These crystalline formations are the result of minerals deposited by dripping water. Forest Service interpreters guide all tours
Stroll through large, beautifully lighted rooms with handrails and paved trails for comfortable walking. Climb over rocks, crawl through and slide down red clay mud in an undeveloped section of the Caverns. Tour the "Water Works" exhibit hall and view the movie "The Amazing World Below" which introduces you to the underground world.
Blanchard Springs Caverns is a three-level cave system, two of which are open for guided tours. Click on the links below to get more information about each of the following tours.
Dripstone Trail
This shorter, easier trail takes you almost half a mile one-way through the Caverns. All stairs can be avoided, making trails accessible for wheelchairs and strollers. For more informatin click the link above.
Discovery Trail
Open June-August. This longer, more strenuous tour is 1.2 miles long, with nearly 700 stairsteps.he longer, more strenuous of the trails explores the middle level of the Caverns system. For more information click on the link above. Discovery in the Dark Headlamp tours are conducted in the last part of the Discovery Trail, September through May. Visitors are supplied with helmets and headlamps, and tours are conducted by Forest Service guides with the cave lights off.
Wild Cave Tour
This tour offers you an introduction to off trail caving in a structured environment. The newest of the Caverns tours takes visitors to the undeveloped sections of the middle level. Click the link above to get more information
 Cost
Blanchard Caverns Rates
Adults – $10.00 for Dripstone / Discovery Tours
Children age 6-15 – $5.00 for Dripstone / Discovery Tours
Golden Age Passport Holders – $5.00 for Dripstone /Discovery Tours
Wild Cave Tour – $75.00 plus ticketing fee; no Refunds; balance on day of tour; no other discounts apply.
Golden Age Pass – $10.00
Season Pass – Adults $25.00; Children 12.50; Golden Age Passport holders $12.50
Special Rates – Half price discounts are available to senior citizens aged 62 and up with a Golden Age Passport, disabled visitors.
Complimentary tours are available to ex-prisoners of war and Purple Heart recipients with a POW/PH card, available at the Visitor Information Center.
Pets are not allowed in the Visitor Center or Caverns – seeing-eye dogs and service dogs are an exception. There are no kennels. Pets are welcome in the recreation areas, outside the swimming areas, as long as they are leashed.
Please call 1-888-757-2246 between 9:30 a.m. and 5:30 p.m. CST for current rates.
What to Photograph:
The Blanchard Springs Recreation Area features many photo oportunities including the remains of Mitchell Mill on North Sylamore Creek.  There are some fantastic stone bridges  and Mirror Lake and Dam built by the CCC during the 1930's.  Blanchard Springs  flows through the Blanchard Springs Caverns for nearly a mile before pouring out of the mouth of the cave.
The main attraction is the cavern itself, a living cave which is said to be one of the most beautiful in the country.  The Forest Service offers guided tours through the cave on a daily basis, but for the best photo opportunities a special photography tour is recommended.  The photography tours are usually offered a couple of times a year or can be scheduled for a group.
Best Time for Photographers:
The Blanchard Springs Recreation area is best photographed during the spring and fall, when colors are at their peek.  The cavern can be photographed at any time as the weather in the cave is constant throughout the year at 58 degrees and totally dark.
Getting There:
Directions:
To get to the Blanchard Springs Recreation Area from Mountain View, take Arkansas Highway 14 West for 12.1 miles, turn right (north) at the Blanchard Springs Caverns sign. Follow signs to the different facilities.
Maps: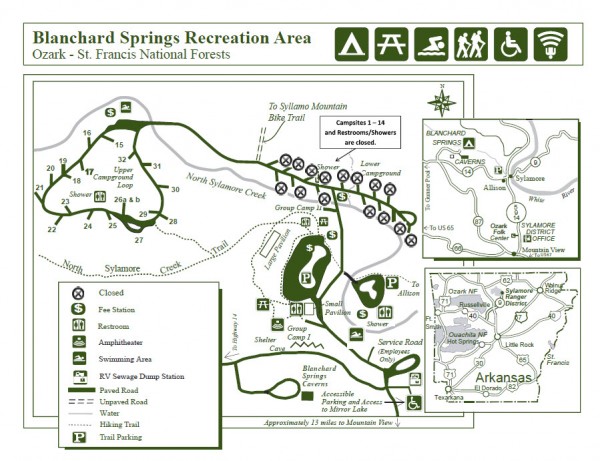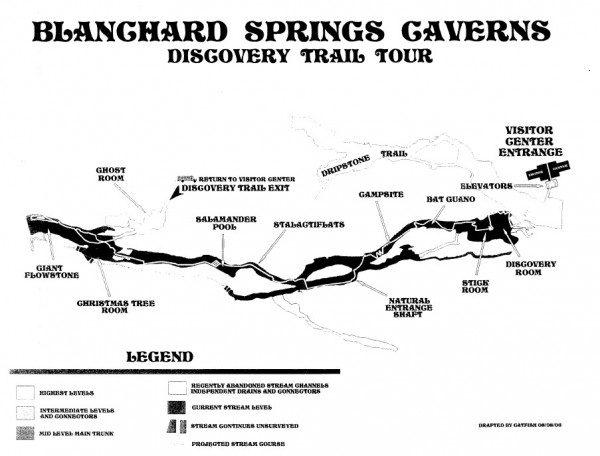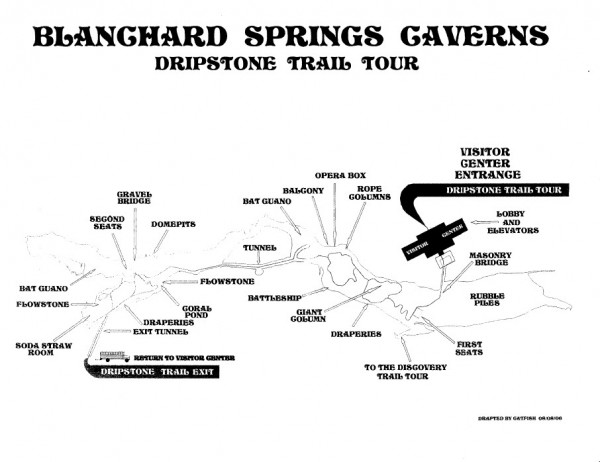 Interactive Google Map
Use the map  + – controls to zoom in and out, click and drag the to move the map, use the Map drop-down to change to "Map", "Satellite", "Hybrid", or "Terrain" views.  Drag the little man icon from the upper left corner to a map location for street level view.
Location Contact Information:
Address:
Blanchard Springs Recreation Area & Campground
Ark. 14 West
Fifty Six, AR 72533
Phone: 870-269-3228
Toll-Free: 888-757-2246
Fax: 870-757-2675
Supervisors Office
Ozark-St. Francis National Forests
605 West Main Street
Russellville, AR 72801
479-964-7200
Links
Blanchard Springs Recreation Area Brochure
Nearest City or Town:
---
---
Blanchard Springs Photo Gallery
More Photographic Destinations in Arkansas:
Interactive Google Map
Use the map  + – controls to zoom in and out, use the Map drop-down to change to "Map", "Satellite", "Hybrid", or "Terrain" views.  Drag the little man icon from the upper left corner to a map location for street level view. Click on a pushpin for more information about the Photographic Destination, then click on the title to go to the location page.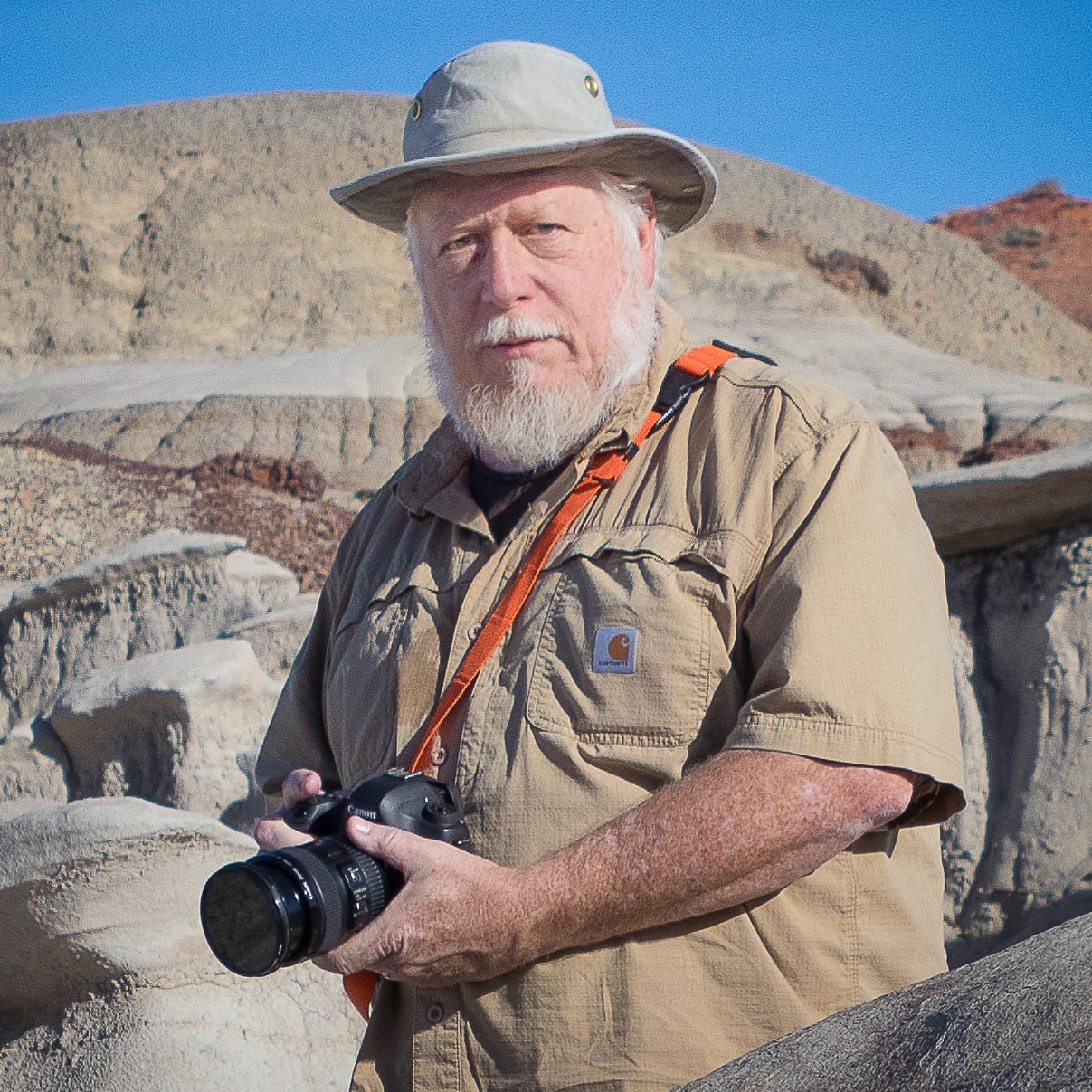 Greg Disch is a freelance photographer located in Fort Smith, Arkansas.  Greg specializes in nature, scenic, wildlife, and other outdoor subjects in Arkansas and other areas of the country. Greg also shoots portraits and event photography and is available for assignments.  Greg teaches photography classes and workshops in Arkansas and other locations.  Most of the images on this site are available for sale as prints, personal use, or rights managed stock photos.