Event Phone: 479-414-6889
Adobe Lightroom Workshop


February 24, 2018 - February 25, 2018




10:00 am - 4:00 pm
Learn Lightroom CC Classic Weekend Workshop February 24-25, 2018
This is a two day  workshop with hands on classroom instruction.  You will actually go through the entire process and develop a digital workflow on your computer with your images.  We will learn to organize our entire photo library using the powerful database tools of Lightroom from import all the way through to delivering finished photos.  We will learn to use the develop module to process our images to achieve the best image possible.
Learn what the difference is between Lightroom CC and Lightroom CC Classic and which is best for you.
We will learn the new features in Lightroom  including:
HDR Merge: Create natural-looking or surreal images from extremely high-contrast scenes. Using HDR merge, you can easily combine multiple shots taken with different exposure settings into a single high dynamic range image.
Enhanced Auto:  The underlying neural nets have been trained with thousands of professionally shot and manually edited photos to evaluate and correct an image, just like a skilled human photographer.
New Process Version 4:  Improved masking and better noise reduction.
Color and Luminance Range Masking:  Using the new Color Luminance Range Masking controls, you can quickly create a precise masking area on your photo for applying local adjustments.
Panorama Merge: Stitch together multiple images, including raw files, to create stunning panorama shots.
Facial Recognition: Easily find and organize photos of family and friends with new Facial Recognition features in Lightroom CC.
Filter Brush: Precisely control which parts of your image are affected by the Graduated or Radial filters. Now you can use a brush to edit the filter's mask, adding or subtracting filter effects wherever you want.
Dehaze: Lightroom lets you easily decrease or increase the amount of haze or fog in a photograph.
Register Now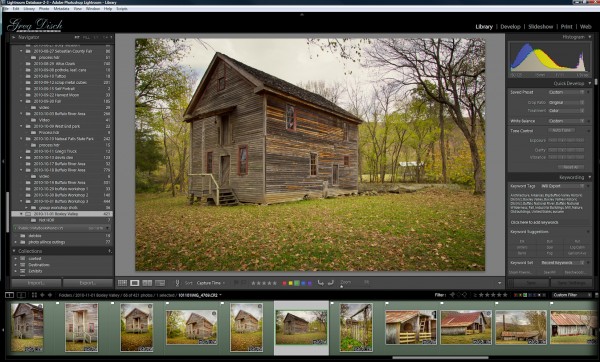 Learn Complete Digital Workflow
Using Adobe Lightroom

Learning to apply keywords and setting up a proper keyword hierarchy will save countless hours locating photos in the future and for online searches when you publish to the web.  You will learn to use collections, smart collections and additional metadata to make organizing your entire library fast and efficient.
You will learn to achieve fantastic tone and color using simple sliders, and using  the new greatly improved sharpening and noise reduction, you will think you have a new camera.  The new lens profiles and their manual controls allow for correcting lens distortions or creating dramatic effects.  Dodging and burning are simple tasks in lightroom using the adjustment brush.  All of this in a totally non destructive work environment designed to speed you through the  process.
Even with all the power of lightroom there will still be times when you will need the full power of Photoshop, and you will learn how to make the two work together for a seamless workflow.
After developing your images they will be ready for export, and you will learn how easy it is to get the file type and size you need.
We will how to use the slideshow, web, and print capabilities of Lightroom.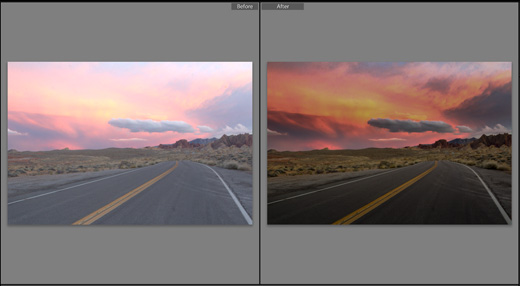 Workshop Policies and Information
About the Workshop
Our workshops are based on digital photography, the assistance that I can provide and the immediate feedback of digital make "in the field" workshops one of the most effective teaching formats available.  Whether finding the correct exposure, looking through the viewfinder for the perfect composition, or learning how to use the equipment, you can't beat real world experience.  Classes are kept small, it's all about personal, individual attention.
Digital offers a number of benefits for learning photography including:
Immediate feedback on exposure and composition
Immediate critique from the instructor an other participants
Ability to do reviews and projection
Automatically capturing all shooting information (Meta Data)
Ability to manage work flow while still on location
Cost
The full cost of the workshop is $399 per participant.
Group Size
We keep our group size small, this provides for a high degree of personal attention and a great amount of flexibility in making the workshop the best possible experience for the participants.
This workshop is limited to a maximum of 3 participants.
Changes to the Itinerary
In order to offer the best experience possible for the workshop participants we reserve the right to alter the itinerary when our judgment warrants it.  This could be due to unforeseen circumstances, closures, weather or other conditions beyond our control.  We may also alter due to new or unexpected photographic opportunities that may arise.
Transportation During Workshop
We do not provide transportation on workshops, carpooling will be done among participants for these workshops.  This helps to keep down the number of vehicles on the road and to keep parking simpler, as well as the opportunity to make friends with the other participants.  If you are riding with others, you are expected to compensate the driver for expenses.
What is Not Included
Transportation to and from the workshop, meals at restaurants, vehicle entrance fees, incidental expenses, gratuities, and items of a personal nature.
Meals
We will take breaks for meals, and my go as a group to continue the discussion and learning, or you are free to go on your own.
Health and Physical Considerations
All participants should be in generally good health, walking and moderate climbing may be necessary in outdoor workshops and you will be responsible for carrying of your own equipment on location shoots.  If you are taking any medications be sure to bring a supply sufficient for the duration of the workshop.
My studio classroom is on a second floor with a narrow stairway.
If you have any concern about your ability to participate in a workshop please contact me before registering.
Registration, Payment, and Refund Policy
You can register any way you like, just so I get your information, you can use the online registration, the contact form, email,  postal mail, or call me on the phone (479-414-6889) either to register or just ask a question.  Registration is done on a first come basis, so register early to secure your space.   A deposit of $200 is required to reserve your space, and full payment is due  by Feb. 15, 2018. Enrollment is limited in our workshops, so once you have been accepted your participation is important to us – we are counting on you to attend.  All workshop require a minimum number of participants or they will be canceled
If you must withdraw from a course, we must receive written notice of your cancellation, and then apply the following refund policy:   We do not make refunds on workshop fees. We do not make partial refunds for unused portions or services of a workshop for any reason whatsoever. If we are able to fill your space in the workshop we will give full credit towards another workshop.
Cancellation Policy
In the unlikely event that we need to cancel a workshop we will refund all monies paid, in full. Notification of our cancellation will be made via either a telephone call or an e-mail to you at least 30 days prior to the beginning of a workshop other than an emergency. We cannot be responsible for phone messages and e-mails not being received in a timely matter due to your service providers. We cannot be responsible for non-refundable airline tickets unused or other travel arrangements because of a workshop cancellation.
All workshops have a minimum participation level which must be met or the workshop will be canceled.
Liability Waiver
All participants will be required to sigh a liability waiver before beginning a workshop.  We will not be liable for injury, accident or theft resulting from participation in our workshop program.
Weather
The more the better, at least as far as the photography goes.  Workshops will not be canceled and no refunds will be made due to weather, we will not be responsible for any additional costs that may be incurred by weather delays or cancellations due to weather, flight delays, or other. Participants should come to the workshop prepared for all weather conditions. We will generally update everyone within a few days of the workshop so that they know what type of weather to expect.
Trip Extensions
We may be able to extend your trip in the area, if you would like more time and personal instruction.  Please contact us for more information and rates before the workshop.
Smoking
We prefer that you do not smoke, however if you must please abide by the following guidelines.  Smoking is not allowed in or near vehicles, during instructional sessions, during group meals, or at other times when in close quarters with other workshop participants.
Location
Venue Phone: 479-414-6889
Address:
611 North 5th Street
,
Fort Smith
,
Arkansas
,
72901
,
United States
Description: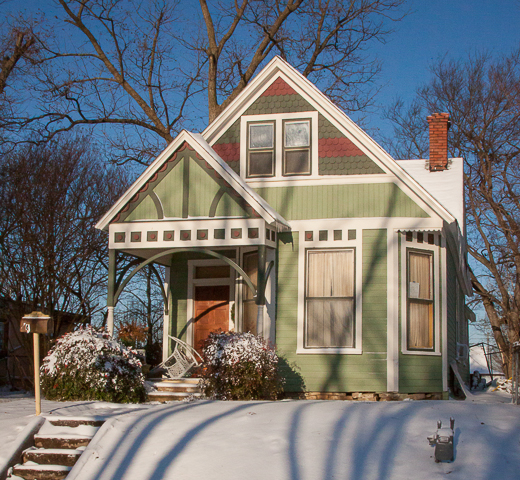 My classes are held at my personal studio, located in a Victorian cottage built in 1896 and located in the Belle Grove Historic District in Fort Smith.  I have been renovating/restoring it for the past 5 years and am nearing completion. 611 N 5th Street Fort Smith Arkansas