Oklahoma Route 66 Town by Town Photo Gallery
The historic U.S. Route 66 ran from west to northeast across the state of Oklahoma, along the path now taken by Interstate 40 and State Highway 66. It passed through Oklahoma City, Tulsa, and many smaller communities.
Oklahoma has about 400 miles of Route 66. Oklahoma also has more miles of original alignment left than any other Route 66 state—in other states the interstates have obliterated entire sections. In addition, nice stretches of the original cement paving laid down in 1932-1933 in western Oklahoma still remain.
Over time, the pathway of 66 changed, especially as paving was introduced. This was done to eliminate sharp turns, bypass some smaller communities, eliminate railroad crossings, and to shift routings in major metropolitan areas to avoid traffic congestion. Of the original 2400 miles that made up Route 66, about 80-85% is still driveable.
Route 66 was born right here in Oklahoma. Cyrus Avery, a Tulsa businessman and Oklahoma's first highway commissioner, spearheaded the national committee that created the U.S. Highway System in 1926. He championed a Chicago-to-Los Angeles route that dropped south through Oklahoma, then turned west through Texas, New Mexico, Arizona, and California. Avery picked the now famous double sixes as the new road's official number.
Avery also helped create the U.S. 66 Highway Association, which was dedicated to the promotion and paving of Route 66. This group changed their name to the Will Rogers Highway Association and began calling 66 the Will Rogers Highway in December of 1935, following the death of legendary Will Rogers, an Oklahoma native.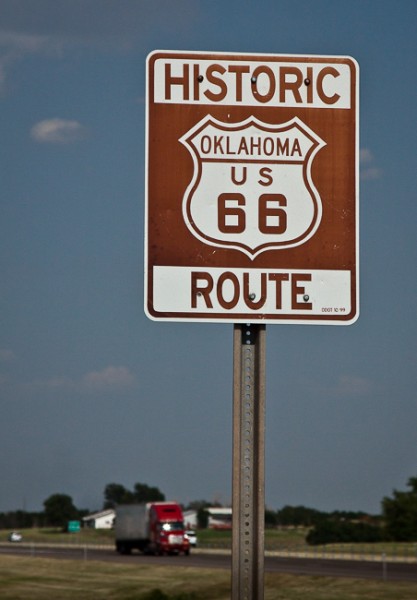 All images are available for sale as prints or for commercial use.
Interactive Google Map
Use the map  + – controls to zoom in and out, use the Map drop-down to change to "Map", "Satellite", "Hybrid", or "Terrain" views.  Drag the little man icon from the upper left corner to a map location for street level view. Click on a pushpin for more information about the Route 66 location, then click on the title to go to the location page.
Enter Keyword to Search All Images