AdobePhotoshop Lightroomis my program of choice for my photography work-flow.

I would first like to explain how Lightroom works and what it does.  Lightroom does what it does by combining Adobe Camera Raw (ACR) and a database, then tossing in a lot of "magic".  What this gives us is a way to organize our photos and then do a great deal of sophisticated editing, all in a totally non destructive (this means you can not ruin your original image) environment.  Lightroom does not replace Photoshop or any other image editing program which lets you use layers and actually change pixels.
The use of a database gives us to ability to organize our photos, (which you could do by putting them in different folders by content, or shoot, or subject, or location, or the color of the sky) and then sort them by any of many different criteria including standard metadata and IPTC information.  This ability to sort very quickly on the entire catalog is what makes Lightroom great for organizing, or should I say finding your photos.  The other cool thing about using a database, is that instead of changing all of our pixels and then throwing away the old pixel information, Lightroom simply saves an instruction to change the pixels.  The program then reads this instruction and applies it to the image on screen but not to the actual file.  We can then continue to add instructions and if we wish remove instructions, and never change a single pixel in our original file.
This class is designed to give you all of the essential information to get started in a faster, more productive workflow.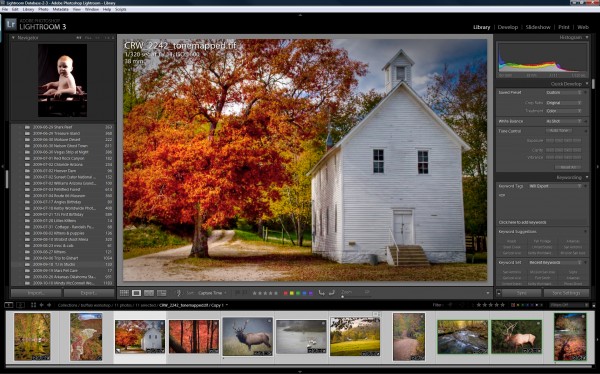 Class Agenda
10:00  Class Begins
The Library
We will start off by importing some photos into lightroom and getting everything configured properly from the start to avoid frustration later.  You will configure lightroom settings, get familiar with the interface and workspace, create metadata presets to copyright your work, and learn to quickly and automatically rename files.  You will learn to make fast work of viewing, sorting, comparing, rating, and rejecting photos.  Learning to apply keywords and setting up a proper keyword hierarchy will save countless hours locating photos in the future and for online searches when you publish to the web.  You will learn to use collections, smart collections and additional metadata to make organizing your entire library fast and efficient.
Lunch Break
Developing Your Images
You will learn to achieve fantastic tone and color using simple sliders, and using  the new greatly improved sharpening and noise reduction, you will think you have a new camera.  The new lens profiles and their manual controls allow for correcting lens distortions or creating dramatic effects.  Dodging and burning are simple tasks in lightroom using the adjustment brush.  All of this in a totally non destructive work environment designed to speed you through the  process.  Even with all the power of lightroom there will still be times when you will need the full power of Photoshop, and you will learn how to make the two work together for a seamless workflow.
After developing your images they will be ready for export, and you will learn how easy it is to get the file type and size you need.  You will learn about the 3rd party plugins that speed your workflow even more. We will complete the day with a look at the slideshow, web, and print capabilities of Lightroom.
Class Information:
| | |
| --- | --- |
| Location | Greg Disch's Private Studio, Fort Smith AR |
| Experience | Must be familiar with using a computer |
| Equipment | Digital Camera and laptop computer with lightroom 3 installed (Full or 30 day trial) |
| Optional Equipment | If feasible we will shoot images before starting, or working images will be provided for you to follow along in class; you may also bring your own images to work on. |
| Maximum Class Size | 8 particpants to enable personal attention. |
| Schedule | 10 am to 5 pm with a lunch break (lunch not included) |
| Date | |
| Cost | $97.00 per person |
| Who Should Attend | Enthusiasts and Advanced Amateurs to Professionals want to spend more time shooting an less time editing. |
| | |