July 28-29, 2012  Fort Smith Arkansas
The core of this workshop is to improve your finished photos and make sure the world gets to see the results. A basic working knowledge of Lightroom is needed.  We will be using Lightroom 4 in the workshop, most of the techniques and knowledge are the same as Lightroom 3, however there are significant improvements and new features that we will be using during the workshop.  You should already know how to import and work with your photos in Lightroom.
During the workshop we will leave the classroom and capture the images to be processed, this will provide you with similar images to the ones I am working, for you to follow along on your own images.  We will plan on at least two photo shoots and maybe more.
This workshop is the perfect opportunity to hone your processing skills in Lightroom.  Most Lightroom  classes are based on how to work the software, in this workshop we will concentrate on "what to do" along with the how to do it.  In my Lightroom classes I am often asked "how do I know what needs to be done to a photo?".
When you first start, or after years of editing, the hardest part can be "where do I start".  With Lightroom 4 and other editing software there are so many possibilities that it can be very intimidating.  I will show you how to determine where to start and why, and the steps to making your images as good as they can be.
Lightroom 4 is where I spend most of my time editing or processing photos, but Lightroom 4 is not a "do all" program.  I will show you when you need to use other image editing software, such as Photoshop or Photoshop elements, and how to manage your workflow between programs.

 Composition
Great photos begin with a good composition and that's where we will start.  We will learn what composition is and the rules, or as I like to say, guidelines to good composition.
We will cover Compositional Elements:
Center of interest
Subject placement
Simplicity
Viewpoint and camera angle
Balance
Shapes and lines
Pattern
Texture
Tone
Contrast
Framing
 Foreground
 Background
 Perspective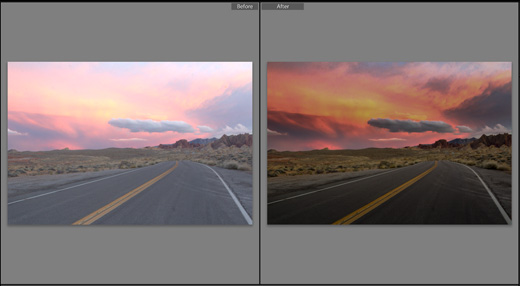 Image Editing
Digital photography has made it possible for most people to be able to take really good pictures, but to make those into  great photos requires editing or processing the images on a computer.  Part of this is, that as good as the new cameras are, they do not capture a scene 100% accurately.  This has to do with factors such as a limited dynamic range, white balance, the sensors inability to correctly capture some colors, lens distortions, and many other factors.  It's true that editing can make a bad photo "good", but if you are after more than just "good" you need to start with a "good" photo and make it great.
Some of the techniques we will cover in the processing part of the workshop include the following:
Cropping  photos
Straighten horizons
Recover lost vibrance and saturation
Fix white balance
Improve clarity
Recover highlights
Recover shadows
Sharpening
Sharpening with a mask
Selective Sharpening
Noise reduction
Remove chromatic aberrations (color fringing)
Correct exposure
Selectively adjust colors
Create great B&W photos
Split Toning  (sepia)
Perspective corrections
Creative Vignetting
Spot Removal
Red eye removal
Graduated Filters
Create Develop Presets
Virtual Copies
Snapshots
Correcting Exposure with the Histogram
Adjustment Brush
Dodging and Buring
Auto Masking
Using the Tone Curve
Using Lens Profiles
Synchronize adjustments to multiple photos
Once we have made  great photos, we need to show them to the world.
 Exporting
File renaming
Output sharpening
Image sizing
Watermarking
Email Photos
Burn to cd
Printing
We will learn how to use the Lightroom printing module which is the easiest way to create custom print layouts for printing on your own printer, or preparing to send to a lab for printing.
Print templates
Custom Picture Packages
Contact Sheets
Single Image Picture Packages
Soft Proofing
Photo Books
New in Lightroom 4 is the ability to create photo books.  At this time the only vender is Blurb an early pioneer of online photo book publishing.  Lightroom 4 will let you complete all layout and then upload the book for printing, or with the Lightroom 4.1 update you can save the pages as jpg files for printing.  This gives us the ability to create multi-photo layouts complete with text inside of Lightroom 4.
Slide shows
Using the slideshow module you can create a simple basic slideshow of your photos, which you can play directly from Lightroom or save as a video file to be played independently.
Publish Services
Publish services are designed to keep your Lightroom catalog synced with many online photo sharing sites.  Publish services remember different versions of photos and compare them with the online version and let you know if you need to update the online version.

Workshop Information:
| | |
| --- | --- |
| Location | Greg Disch's Private Studio, Fort Smith AR |
| Experience | Should be familiar with using your camera and editing your images on a computer. |
| Equipment | DSLR Digital Camera, lenses, and laptop computer with Lightroom 4. |
| Optional Equipment | Additional lenses and camera equipment and an external flash if you have one. |
| Maximum Class Size | 8 particpants to enable personal attention. |
| Schedule | Saturday July 28, 10:00am – 11:00 pm  and  Sunday July 29 10:00am – 5:00 pm |
| Cost | $189.00 per person |
| Who Should Attend | Photographers who want to learn how to get the most from Adobe Lightroom 4, for editing their images and presenting them. |
Workshop Policies  and Information
About the Workshop
Our workshops are based on digital photography, the assistance that I can  provide and the immediate feedback of digital make "in the field"  workshops one  of the most effective teaching formats available.   Whether finding the correct  exposure, looking through the viewfinder  for the perfect composition, or  learning how to use the equipment, you  can't beat real world experience.   Classes are kept small, it's all  about personal, individual attention.
Digital offers a number of benefits for learning photography including:
Immediate feedback on exposure and composition
Immediate critique from the instructor an other participants
Ability or afternoon or evening reviews and projection
Automatically capturing all shooting information (Meta Data)
Ability to manage work flow while still on location
Group Size
We keep our group size small, this provides for a high degree of  personal  attention and a great amount of flexibility in making the  workshop the best  possible experience for the participants.
This workshop is limited to a maximum or 8 participants.
Changes to the Itinerary
In order to offer the best experience possible for the workshop participants  we reserve the right to alter the itinerary when our judgment warrants it.  This  could be due to unforeseen circumstances,  closures, weather or other conditions  beyond our control.  We may also alter due to new or unexpected photographic  opportunities that may arise.
What is Included
Your workshop fees include full instruction and location guiding.  Upon  receipt of your deposit, you will be supplied a trip checklist to assist with  your preparations. Before the workshop, all participants receive a course  syllabus, detailed itinerary, technical articles, and more.
What is Not Included
Transportation to and from the workshop, transportation during the workshop, lodging, meals, incidental expenses  and items of a personal nature.
My philosophy on lodging and meals is that by not including them in the workshop each participant is free to choose their own level of accommodation and choice of meals.  I have some participants stay in high end motels, while others prefer camping or RV's.  If these items were included in the workshop fee, it would simply be increased to cover the expenses plus a margin to be sure I did not lose money.
Health and Physical Considerations
All participants should be in generally good health, walking and moderate  climbing may be necessary in outdoor workshops and you will be responsible for  carrying of your own equipment on location shoots.  If
you are taking any  medications be sure to bring a supply sufficient for the duration of the  workshop.
If you have any concern about your ability to participate in a workshop  please contact us before registering.
Equipment Needed
To get the most from the workshop you should have a Digital Single Lens  Reflex  (DSLR) camera, tripod and an assortment of lenses.  That being said, it  is the photographer not the camera that makes the photo.  You will need a laptop  computer to use, remember to bring all software, drivers, cords, and camera  manuals when attending any workshop and you should be technically proficient with  your laptop computer and editing software ( Adobe Lightroom 4 is reccomended and what will be used in any class work).
Transportation During Workshop
We do not provide Transportation on field trips, carpooling will be done  among participants for these workshops.  If you do not have a car let us know  and we will be sure there are  enough seats with other
members during the  workshop.
Lodging
Lodging is not provided, you will need to make your own reservations, we will  be meeting in Fort Smith AR, and be eating most meals there.
Meals
Meals, drinks, and snacks are not provided, and are the responsibility of the  participant.   You may eat on your own or we can go as a group.
Registration, Payment, and Refund Policy
You can register any way you like, just so I get your information, you can use the online registration, the contact form, email,  postal mail, or call me on the phone (479-414-6889) either to register or just ask a question.  Registration is done on a first come basis, so register early to secure your space.   A deposit of 20% is required to reserve your space, and full payment is due 30 days prior to the workshop. Enrollment is limited in our workshops, so once you have been accepted your participation is important to us – we are counting on you to attend.
If you must withdraw from a course, we must receive written notice of your cancellation, and then apply the following refund policy:   We do not make refunds on workshop fees. We do not make partial refunds for unused portions or services of a workshop for any reason whatsoever. If we are able to fill your space in the workshop we will give full credit towards another workshop. If we are not able to fill your space we will issue 50% credit towards a future workshop.
Non Photographer (Spouse, significant other, or friend)
We welcome spouses to join you on the workshop experience however  "workshop  activities" are limited to registered, paid attendees.  You may have a non  photographer accompany you to all activities but they
must pay for the  workshop.  If they wish to accompany you on the trip  but not attend the workshop  activities, but stay with you, finding  other activities during the day,  and   meet for meals and social type  events that is perfectly acceptable.
Cancellation Policy
In the unlikely event that we need to cancel a workshop we will refund all monies paid, in full. Notification of our cancellation will be made via either a telephone call or an e-mail to you at least 14 days prior to the beginning of a workshop other than an emergency. We cannot be responsible for phone messages and e-mails not being received in a timely matter due to your service providers. We cannot be responsible for non-refundable airline tickets unused or other travel arrangements because of a workshop cancellation.
All workshops have a minimum participation level which must be met or the workshop will be canceled.
Liability Waiver
All participants will be required to sigh a liability waiver before beginning  a workshop.  We will not be liable for injury, accident or theft resulting from  participation in our workshop program.
An additional waiver will be required for the shoot at Fort Chaffee.
Weather
The more the better, at  least as far as the photography goes.  Workshops will not be canceled and no  refunds will be made due to weather, we will not be responsible for any  additional costs that may be incurred by weather delays or cancellations due to  weather, flight delays, or other. Participants should come to the  workshop prepared for all weather conditions. We will generally update everyone  within a few days of the workshop so that they know what type of weather to  expect.
Trip Extensions
We may be able to extend your trip in the area, if you would like more time  and personal instruction.  Please contact us for more information and rates  before the workshop.
Smoking
We prefer that you do not smoke, however if you must please abide by the  following guidelines.  Smoking is not allowed in or near vehicles,  during  instructional sessions, during group meals, or at other times  when in close  quarters with other workshop participants.