Located in Lee Creek Valley of the Ozark Mountains is Devil's Den State Park.  With its deep crevices, mysterious caves, and striking bluff overlooks, Devil's Den State Park is ideal for hiking, backpacking, horseback riding, mountain biking and camping in Arkansas. Several of the park's backcountry hiking trails lead into the adjacent Ozark National Forest. Whether you're looking for a place to relax or want an outdoor adventure, Devil's Den is a place where you can get a feel for the spirit of the ancient, scenic hills known as the Ozarks.
Devil's Den State Park
Cost:
There is no fee for this area for day use.  Fees apply for camping, cabins, Backpacking Equipment rental, Boat Rental, Use of Group Facilities and Swimming
Best Time to Visit:
The area has many photographic opportunities all year long.  Wildflowers in the spring, summer sports  like backpacking and mountain biking along with water recreation, followed by brilliant fall foliage.  Add an occasional winter snow and you have four seasons of photography.
Where it is:
Directions:
To reach Devil's Den State Park, travel eight miles south of Fayetteville on I-540 to Exit #53 (West Fork), then go 17 miles southwest on Ark. 170; or I-540 at Exit #45 (Winslow) and go 7 miles west on Ark. 74 to the park. [TRAILERS LONGER THAN 26 FT. SHOULD USE CAUTION WHEN USING ARK. 74 DUE TO THIS MOUNTAINOUS ROAD.]  From Fort Smith go east on I-40 to I-540 to either of the above exits.
Map:
Click map to enlarge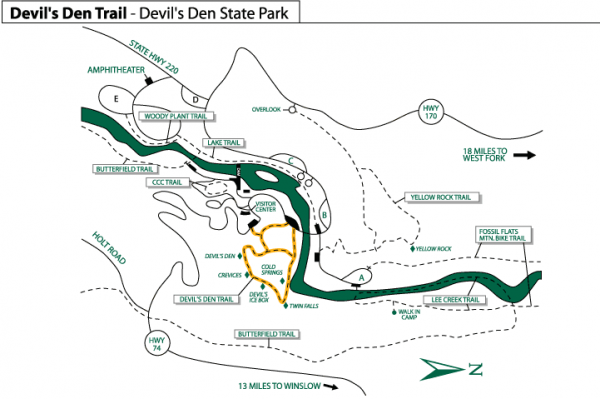 Links:
Arkansas State Parks – Devil's Den
Contact
11333 West Arkansas Highway 74
West Fork, AR 72774
Email: devilsden@arkansas.com
To reach the park office or make campsite reservations call 479-761-3325
Facilities
There are 143 campsites located in the park: 44 Class AAA, 12 Class B, 13 Class C, 24 Class D (no hookups), eight Hike-in (tent only) and 42 sites with water and electric hookups in the Horse Camp that includes a bathhouse and access to the horse trails. There is also a group camp area. The park also has 17 cabins. Cabins feature kitchens and fireplaces and are available throughout the year. A park cafe and store are available in the summer months. A park grocery is open year round.
Tips for the Photographer
Equipment:
You will want to bring everything that you have and then borrow some of your friends equipment.  Ok I just kidding, but you will have the opportunity to shoot birds and other wildlife that will require as long of lens as you have.  There are a great number of possibilities for doiing close-up and macro work.  Scenic's may require normal to wide angle lenses.  To shoot in the caves you will need a flashlight to see and focus (it is totally dark in there) and a flash to light the cave.
What to Photograph:
Devil's Den has more to photograph than you could possibly fit into one day.  Nature photographers will enjoy the butterflies, wildflowers, caves and crevices, and wildlife.
Photography Tips:
When shooting the wildflowers in spring be sure to bring something that can be used as a diffusion filter.  The sunlight filtering through the leaves will leave hot spots and ruin your images.  Also a reflector can help to fill the shaded parts to get a great exposure.  Using a longer lens (around 200mm) will help to narrow the angle of view and elimate distracting backgrounds.
Devil's Den State Park Photo Gallery
More Photographic Destinations in Arkansas:
Interactive Google Map
Use the map  + – controls to zoom in and out, use the Map drop-down to change to "Map", "Satellite", "Hybrid", or "Terrain" views.  Drag the little man icon from the upper left corner to a map location for street level view. Click on a pushpin for more information about the Photographic Destination, then click on the title to go to the location page.
Greg Disch is a freelance photographer located in Fort Smith, Arkansas.  Greg specializes in nature, scenic, wildlife, and other outdoor subjects in Arkansas and other areas of the country. Greg also shoots portraits and event photography and is available for assignments.  Greg teaches photography classes and workshops in Arkansas and other locations.  Most of the images on this site are available for sale as prints, personal use, or rights managed stock photos.