Event Phone: 479-414-6889
June 15, 2018 - June 17, 2018




3:00 pm - 12:00 pm
Flint Hills Photography Workshop
June 15-17, 2018
This will be a 3 day 2 night photography workshop and adventure in the Flint Hills of Kansas filled with great photo opportunities, and a chance to experience ranch life and a true cattle drive. Two nights lodging at the Flying W Ranch and some meals are included in this workshop.
Rolling green grass as far as you can see, after spring burning, and June is a peak time for wildflowers. The Flint Hills has the most dense coverage of intact tallgrass prairie in North America. Due to its rocky soil, the early settlers were unable to plow the area, resulting in the predominance of cattle ranches, which are in turn largely benefited by the tallgrass prairie. Beginning in the mid-19th century, homesteaders replaced the American Indians in the Flint Hills. Due to shallow outcroppings of limestone and chert, corn and wheat farming were not practical over much of the area and cattle ranching became the main agricultural activity in the region. Therefore, not having been plowed over and still sparsely developed today, the Flint Hills represent the last expanse of intact tallgrass prairie in the nation and the best opportunity for sustained preservation of this unique habitat that once covered the Great Plains.
Location
Our hosts for the workshop are Josh and Gwen Hoy owners of the Flying W Ranch.
The ranch is based at our home, a 1890s homestead with a historic three-story red barn, nestled in the Cottonwood River Valley in Chase County, Kansas.  The Flying W Ranch is a 7,000 acre working cattle ranch in the tallgrass prairie that offers guest ranch services to people wanting to experience the Flint Hills and Cowboy Culture.
The Flying W Ranch currently runs 250 cows year round and 1,500 yearlings from April to August. To manage the livestock, we have 50 horses, 6 of these being draft horses which we use to feed with. Our horses are real working ranch horses. They are well trained and capable of taking you on a relaxing ride or a cowboy adventure. In addition to riding, we have many miles of Cottonwood River, creek, hills, prairie, and woodland to hike, ride, fish, and explore.
We have an authentic 1880's chuck wagon and a professional kitchen. We offer catering from rustic chuck wagon fare to gourmet dining. As a guest, you can experience ranching life with us as it is, or as it was. We offer anything you want from solitude and relaxation to a real cowboy experience and adventure.
The Flying W Ranch has five separate buildings that offer a variety of accommodations for everything from large family reunions to single person getaways. One of the special characteristics of our guest ranch is that you will stay in a rustic looking, but modern accommodation with most of the conveniences of home and nature just outside your door. We have been welcoming guests for the past several years to enjoy our beautiful scenery, wildlife, and to share in our rich ranching heritage.
Night Sky Photography
Learn to photograph the night sky with the Milky Way overhead with the dark skies of the Flint Hills.  We will be able to view the Galactic Center of the Milky way from approximately 11:00 pm till 4:00 am with the moon setting at 11:45 pm.  If weather permits we will do a night shoot on both Friday and Saturday nights, we will adjust our shooting schedule to the conditions.
Before the night photography sessions we will have some classroom instruction and preparation to be sure everyone is able to get great night sky photos, as well as hands on guidance during the sessions.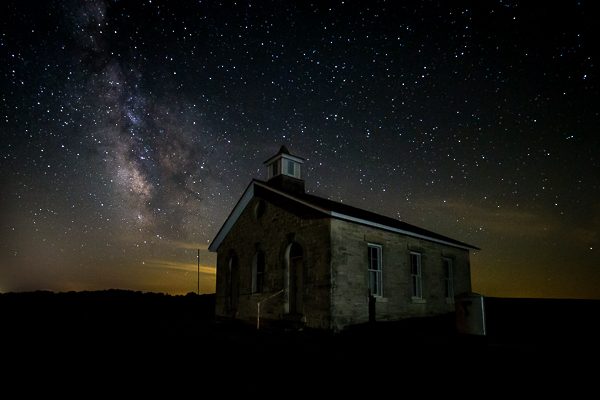 Cattle Drive
One of the highlights of the workshop will be the opportunity to photograph a real cattle drive with Texas Longhorns and special access to capture the event with our cameras.  Combined with one on one hands on instruction in photography throughout the event you are sure to come home with great photos and an experience to remember.
The Cattle Drives starts in the morning (usually at 9:00) from our Ranch Headquarters at Clements, KS, unless otherwise noted. The drive length is typically 8 – 10 miles long through pastures and along country roads and will take 3 – 4 hours. We will be driving between 50 and 150 head of Longhorn Cattle through some of the most scenic areas of the Flint Hills.
The Flying W Ranch will provide non-horseback transportation with a guide to accommodate your every photographic need.  Your guide will transport you around (and sometimes in) the drive and answer your questions.  It is a unique photographic opportunity.
The drives take place rain or shine. Ranch owners and hosts, Josh, Gwen, and Josie Hoy, will provide breakfast, guide you on the trail and feed you a hearty meal of locally grown food prepared by Cowboy Chef, Josh Hoy, at the end of the drive. Jim Hoy, Josh's father, who is a Professor at Emporia State University often joins in and shares his knowledge of the Cowboy Culture and the Flint Hills history.
Itinerary
Friday June 15, 2018
1:00 Check in and get acquainted with other participants.
2:00 Night Photography classroom session
6:00 Diner (on your own, will plan to eat at Ad Astra Food and Drink in Strong City)
Night Shoot
Saturday June 16, 2018
6:00 Sunrise and getting horses saddled and ready for the cattle drive photo shoot
7-7:30  Breakfast (Provided)
7:30-8 Cattle Drive
Lunch after Cattle Drive (provided)
Afternoon can be spent with processing photos, taking a nap, or photographing on the ranch.
6:00 Diner (On your own, will plan to eat at the Grand Central Hotel in Cottonwood Falls).
Night Shoot
Sunday June 17, 2018
7-8 Breakfast
After Breakfast:      Post processing, critique, and wrap Q&A session.
End of workshop and Checkout by 11:00 am.
Optional
Lunch in town and go to the Tall Grass Prairie Preserve for a photo shoot on your own (I will tag along with the group).
Workshop Policies and Information
Cost
The workshop fee per session will $895.00 per participant.
What is Included
Your workshop fees include full instruction in the field, classroom training, and critiques during the workshop.  Two nights lodging at the Flying W Ranch and some meals are also included.
Included in the workshop fee is the cost of participation in the cattle drive.
What is Not Included
Transportation to and from the workshop, some meals, incidental expenses, gratuities, and items of a personal nature are not included.
Lodging
Lodging will be at the Flying W Ranch in the Flint Hills of Kansas.
Phone:     620-340-2802
Mailing
Address:
Flying W Ranch
1515 G Road
Cedar Point, Kansas 66843
USA
Transportation During Workshop
We do not provide Transportation on field trips, carpooling will be done among participants for these workshops.  If you do not have a car let us know and we will be sure there are enough seats with other members during the workshop if possible.
For those travelling from Fort Smith and Northwest AR region we will work out car pooling for the trip.
Meals
Some meals will be provided by our hosts at the ranch, we will have some meals on our own, we will have access to a kitchen.
Group Size
We keep our group size small, this provides for a high degree of personal attention and a great amount of flexibility in making the workshop the best possible experience for the participants. This workshop is limited to a maximum or 6 participants.
Health and Physical Considerations
All participants should be in generally good health, walking and moderate climbing may be necessary in outdoor workshops and you will be responsible for carrying of your own equipment on location shoots.  If you are taking any medications be sure to bring a supply sufficient for the duration of the workshop. If you have any concern about your ability to participate in a workshop please contact us before registering.
Equipment Needed
To get the most from the workshop you should have a Digital Single Lens Reflex  (DSLR) camera, tripod and an assortment of lenses.  That being said, it is the photographer not the camera that makes the photo.   A laptop computer with Adobe Lightroom is recommeded for processing your images, remember to bring all software, drivers, cords, and camera manuals when attending any workshop.
A good sturdy tripod is an essential piece of equipment for doing night and landscape photography along with a cable release or timer to keep the shutter open.  For photographing star trails and the milky way a very wide angle lens is recommended.  We have a great variety of subjects and shooting situations so a good selection of lenses is suggested.  Be sure to bring a camera backpack or bag to carry and protect your equipment on the cattle drive.
Registration, Payment, and Refund Policy
You can register any way you like, just so I get your information, you can use the online registration, the contact form, email,  postal mail, or call me on the phone (479-414-6889) either to register or just ask a question.  Registration is done on a first come basis, so register early to secure your space.   A deposit of $300 is required to reserve your space, and full payment is due 30 days prior to the workshop. Enrollment is limited in our workshops, so once you have been accepted your participation is important to us – we are counting on you to attend. If you must withdraw from a course, we must receive written notice of your cancellation, and then apply the following refund policy:   We do not make refunds on workshop fees. We do not make partial refunds for unused portions or services of a workshop for any reason whatsoever. If we are able to fill your space in the workshop we will give full credit towards another workshop. If we are not able to fill your space we will issue 50% credit towards a future workshop.  If there are openings I will accept last minute registrations when possible.
We can accept no responsibility for losses or additional expenses due to delay or changes in the services to be provided. We reserve the right to change our arrangements should conditions necessitate, or to cancel any aspect of the workshop due to exceptional circumstances.
In the unlikely event that we need to cancel a workshop we will refund all monies paid, in full. Notification of our cancellation will be made via either a telephone call or an e-mail to you at least 14 days prior to the beginning of a workshop other than an emergency. We cannot be responsible for phone messages and e-mails not being received in a timely matter due to your service providers. We cannot be responsible for non-refundable airline tickets unused or other travel arrangements because of a workshop cancellation. All workshops have a minimum participation level which must be met or the workshop may be canceled.
Non Photographer (Spouse, significant other, or friend)
We welcome spouses to join you on the workshop experience but they must pay for the workshop as spaces are limited.
Liability Waiver
All participants will be required to sigh a liability waiver before beginning a workshop.  As there is always an element of risk in any adventure associated with the outdoors, participants must read the liability release form carefully. Participant's signed/dated release will certify that said participant is physically fit and capable of participating in outdoor photography exercises in field locations, and is fully and completely aware of any associated risks created by field locations and weather.
Weather
The more the better, at least as far as the photography goes.  Workshops will not be canceled and no refunds will be made due to weather, we will not be responsible for any additional costs that may be incurred by weather delays or cancellations due to weather, flight delays, or other. Participants should come to the workshop prepared for all weather conditions. We will generally update everyone within a few days of the workshop so that they know what type of weather to expect.
Trip Extensions
We may be able to extend your trip in the area, if you would like more time and personal instruction.  Please contact us for more information and rates before the workshop.
Smoking
We prefer that you do not smoke, however if you must please abide by the following guidelines.  Smoking is not allowed in or near vehicles, during instructional sessions, during group meals, or at other times when in close quarters with other workshop participants.
About Greg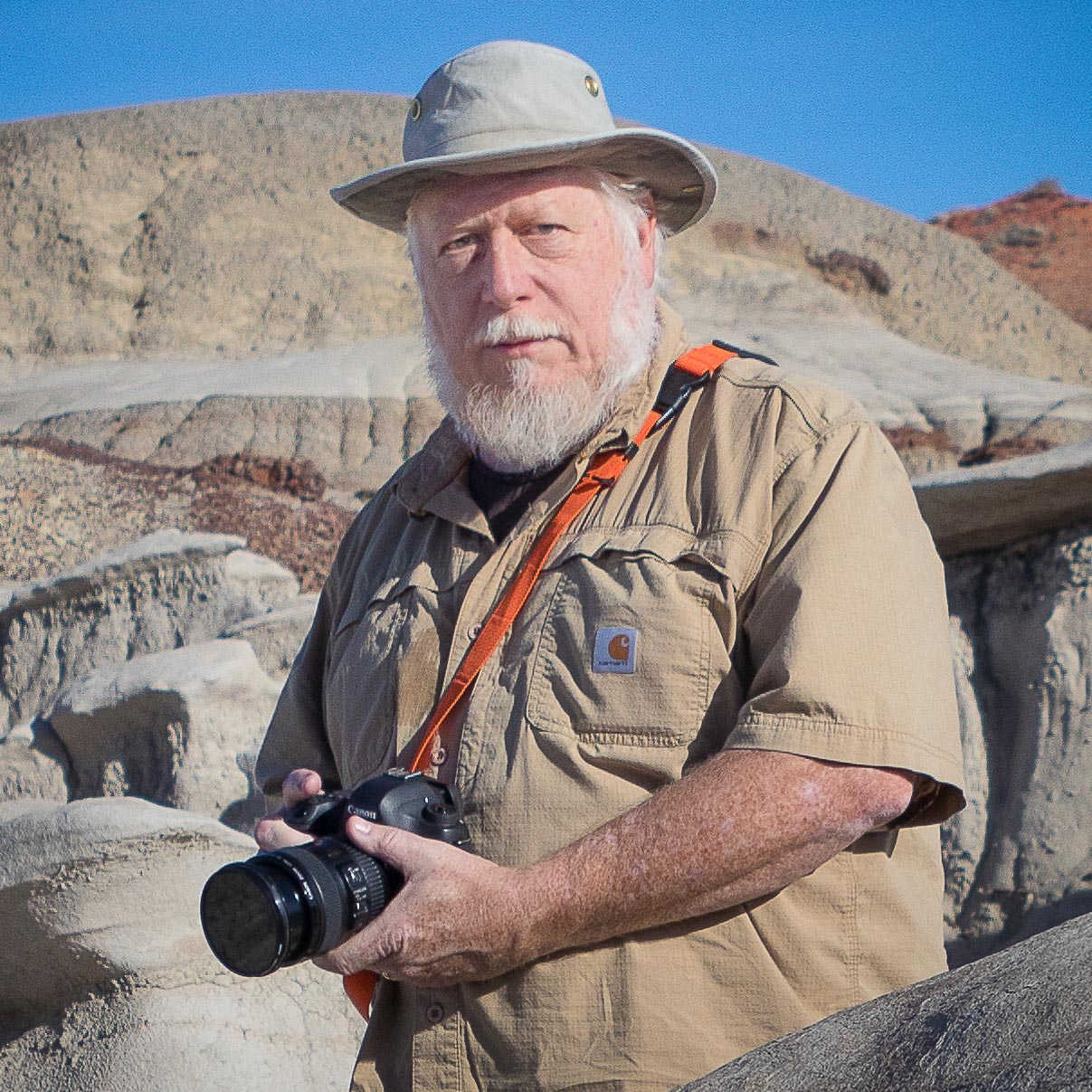 Greg Disch is a freelance photographer located in Arkansas. Greg specializes in nature, scenic, wildlife, and other outdoor subjects in Arkansas and other areas of the country.  Greg has been teaching and leading photography workshops for more than ten years and really enjoys sharing his knowledge with others.
Greg offers both classroom instruction and in the field hands on photographic workshops. Classroom sessions are normally held in Fort Smith Arkansas, but arrangements can be made to bring a class to your group.
All classes and workshops have small class sizes designed to provide an optimum student to instructor ratio, where you can get the personal attention you need.
My workshops and classes are designed around the students needs, with a hands on approach. I provide a photography workshop, not just a photo tour, my goal is provide you with as much personal hands on assistance as possible. I will check with each participant to see how you are doing and if you need help, if you wish for assistance let me know, if not just let me know, and you will be free to shoot on your own. I am more than willing to look through your viewfinder or at your LCD to check your images and offer constructive critique.